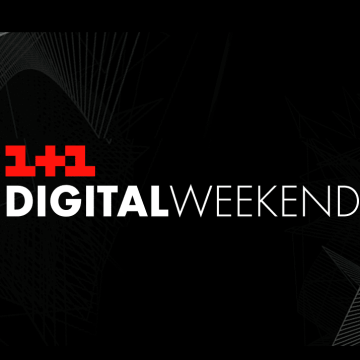 1+1 Digital will hold a series of educational events in the 1+1 Digital Weekend format in three cities of Ukraine
1+1 Digital announced the 1+1 Digital Weekend 2019 format. This year, the project will begin with a series of educational events about technology and media in three cities of Ukraine: April 20-21 - Odesa, May 11-12 - Kharkiv, June 8-9 - Ivano-Frankivsk. The organization of regional events is a social initiative of the 1+1 media digital team, the purpose of which is to tell students and young professionals about the technical side of new media work. Attending events is free.
"The format of the 1+1 Digital Weekend events, which we launched last year, received a lot of positive feedback from the participants and inspired us to expand the geography of our events in the regions of Ukraine. We want to share knowledge about how technologies are transforming the work of new media, making them interactive and multimedia. The mass media are no longer the only ones who produce content – the corporate blogs of some Ukrainian companies can already be compared to news sites in terms of views. Therefore, the topic of our meetings unites everyone who is interested in creating content projects on the Internet, " says Anna Tkachenko, digital director of 1+1 media.
During three two-day events, speakers will talk about the work of modern mass media and the creation of digital products at the intersection of IT and media - from project development to content monetization on various platforms. Today, the launch of multimedia products involves the coordinated work of designers, developers, marketers and journalists, so the events are designed for students and young professionals, for whom it is important to understand all the stages of working with content projects on the Internet.
The program of events in the regions is already available on the 1+1 Digital Weekend website. To join the event, the participant must choose a city convenient for him and go through preliminary registration .
Facebook page of the event in Odessa: https://www.facebook.com/events/336884866949477/
Facebook page of the event in Kharkiv: https://www.facebook.com/events/2141410629229839/
Facebook page of the event in Ivano-Frankivsk: https://www.facebook.com/events/264425877820246/
Read also