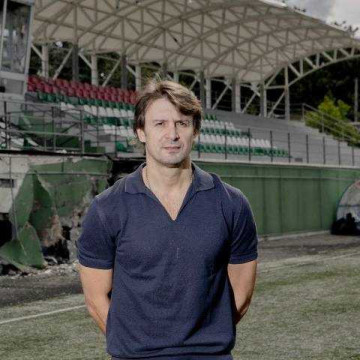 Goalkeeper Oleksandr Shovkovskyi became the ambassador of the socially important project "Sports Front"
"I know: the goalkeeper protects the goal from the opponent's ball. But how to protect them from an enemy Russian missile? I know: fans can accept a player or not. But how to accept this unbearable silence in the stands? Today, Russia continues the war in Ukraine, and Russian athletes remain silent. And this silence is silent support for terror. I appeal to everyone who is united by the love of sports! We must not be silent! All of us, the entire democratic world, are a single team in the fight for victory over evil!" Oleksandr Shovkovskyi said in the video.
In addition, the assistant head coach of the National Team of Ukraine noted that nowadays it is important for everyone to make maximum efforts so that the whole world knows what Ukrainians have to face every day and what tragedies happen in people's lives.
"Russia destroys, kills, tortures our people. Today, Ukraine stands like a shield in front of all of Europe. Everyone should understand this and should not stand aside ," Oleksandr stressed.
The video clip is available for viewing and distribution on the social networks of the 1+1 media group and on the 1+1 and TSN YouTube channels. Also, the social campaign is broadcast within the telethon "Edyni Novyni".
Among the 1+1 media sites that are also involved in the project are TSN, "Breakfast with 1+1", "Profutbol Digital", FootballHub, "Pro sport", TSN.ua, UNIAN and many other resources. The project is implemented with the support of the Ministry of Youth and Sports of Ukraine, as well as the T ribuna.com publication . The key hashtags of the initiative are #BoycottRussianSport, #TurnOffRussia, #StandWithUkraine, #StopWar, #russiaisateroriststate.
We will remind that in June, the 1+1 media group together with Andriy Shevchenko, the best football player in Europe in 2004, the head coach of the national team of Ukraine (2016-2021), a legendary athlete who is known all over the world and a hero of Ukraine, launched the project "Sports front". This is a large-scale communication campaign, as well as a series of initiatives, videos and actions designed to draw the attention of the international sports community to the war in Ukraine. Five videos are already available on the network, the heroes of which are Andrii Shevchenko himself , world judo champion Georgy Zantara , Olympic bronze medalist Hanna Rizatdinova , Olympic bronze medalist Stanislav Horun , legendary goalkeeper Oleksandr Shovkovsky and _
Read also