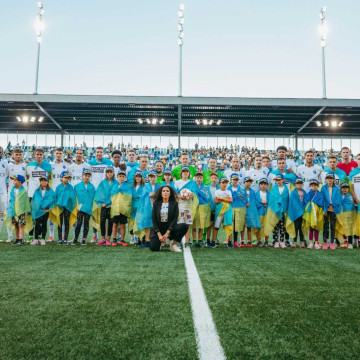 Match for peace: NK, KOLA and Inessa Hrytsaenko performed during the charity match in Lausanne
During the break , KOLA sang the song "Chi Zarom", which currently tops all Ukrainian charts and breaks records for listening. At the end of the match, "Voice of the Country" participant Inessa Hrytsaenko and KOLA performed the iconic composition, which became the anthem of pacifism, John Lennon 's Imagine.
The presenter of the artistic part of the event was Ivanna Onufriychuk , Oleksandr Zolotogorskyi and Oleksandr Melnychenko commented on the match for the Ukrainian audience.
With this match, the team sought to draw attention to the dramatic events that took place in the city of Kremenchuk, and spoke out against the terrorist actions of the Russian Federation on the territory of Ukraine. Football players themselves and many visitors came to the stadium wearing t-shirts with the inscription Pray for Kremenchuk .
Within the scope of the project, a targeted collection is ongoing through the global platform UNITED24 for the purchase of C-arch x-ray machines for the treatment of people affected by the Russian war in Ukraine. Anyone can join the collection by going to the platform and making a donation of any amount from $5.
The event was organized thanks to the charitable foundation of the Surkis brothers and the "Dynamo Kyiv" football club. The organizers express special thanks to the Embassy of Ukraine in the Swiss Confederation and personally to the Ambassador of Ukraine — Artem Rybchenko. In total, more than UAH 35,000,000 of charitable funds have already been collected within the framework of Dynamo charity matches.
The project is implemented with the assistance of the Ministry of Foreign Affairs of Ukraine, the Ministry of Youth and Sports and the Ministry of Culture and Information Policy of Ukraine. The co-organizer of the charity tour is Maksym Radutskyi.
The 1+1 media team is responsible for the organization of performances and the artistic concept of the event, the directors of the event were TRI Directions — Nataliya Lysenkova, Nataliya Rovenska and Maria Hryhorashchenko, who are known for their productions for world-renowned artists.
All financial costs within the scope of the project are covered by the Dynamo Kyiv football club.
Read also