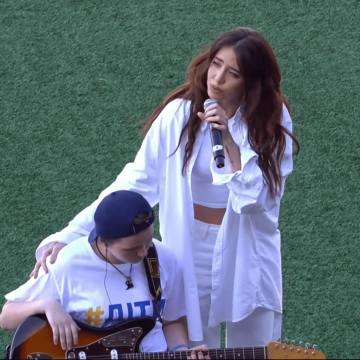 During the Dynamo U16 charity match, the dream of Sonya, who suffered from the bombings of the Russian Federation, came true
On Friday, June 10, in Spain, the Dynamo U16 football club (football players born in 2006) held a charity match Match for peace #StopWarInUkraine against the L'Hospitalet team from Catalonia. The game ended with a score of 2:2.
Thus, the spectators of the match were waiting for a traditional artistic performance with the participation of Ukrainian artists - DOROFEEVA, KAZKA and participant of "Voice of the Country" Inessa Hrytsaenko . The presenters of this part of the event are the curator of the 1+1 project "Make a dream come true" Oleksandr Lobod and singer Michelle Andrade , a participant of past performances .
A special feature of the charity match, within which funds are being collected for the purchase of S-arch x-ray machines , was the joint performance of 13-year-old Sofia Ivanova from the Mykolaiv region, who she was injured as a result of the bombing of the Russian Federation, with the singer DOROFEEVA.
Sofia accompanied the singer during the performance of the song "Thoughts " at the "Feiha Ljarga" stadium , thus realizing her cherished dream - a joint performance with her favorite artist. In addition, on the eve of the match, the organizers gave the girl a tour of sunny Barcelona and organized a shopping trip, because the girl only had the clothes that she managed to get out of the shelling.
Sonya is currently a ward of the charity project 1+1 "Make a dream come true" and FC "Dynamo Kyiv", is under the care of doctors from "Okhmatdyt" and, in addition to treatment, is practicing playing the guitar, which was a gift from TSN viewers.
"Positive emotions are very important for children, if only for a little while they switch from the dramatic events taking place in our country ," - say the curators of the charity project "Make a dream come true".
Traditionally, the 1+1 media team and the Department of Big Shows were involved in the organization of performances and the artistic concept of events, the directors of the event were TRI Directions — Nataliya Lysenkova, Nataliya Rovenska and Maria Hryhorashchenko, who are known for their productions for world-famous artists. And the target collection for the purchase of medical equipment continues on the UNITED24 platform .
We will remind you that 13-year-old Sofia Ivanova from the Mykolaiv region died as a result of Russian bombings. When the Russian military shelled the house where the girl's family lives, a shell fragment hit her in the head. Currently, Sonia is a ward of the 1+1 " Dream Come True " charity project, Dynamo Kyiv FC and is under the care of doctors from "Okhmatdyt".
Read also