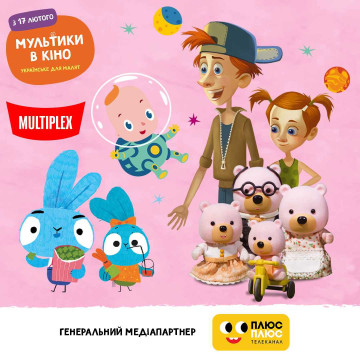 PLUSPLUS became a media partner of "Cartoons in cinema. Ukrainian for children" from FILM.UA Group and Multiplex
TV channel PLUSPLUS, which is part of the 1+1 media group , became a media partner of the project "Cartoons in cinema. Ukrainian for children". From February 17 and during the week, a special screening will be held in multiplex cinemas, which includes cartoons produced by Ukraine - "BRAVING RABBITS", "210 Good Deeds", "Little Town" and "First World". This is already the second release of such screenings within the project initiated by the film company FILM.UA Group, the chain of Multiplex cinemas, with the participation of independent Ukrainian animation studios and with the support of the State Agency of Ukraine for Cinema.
Among the producers of cartoons presented in the program are such Ukrainian studios as Glowberry, Good Deeds Animation, Unimage and Pershocvit. The characters of the cartoons communicate with each other exclusively in the Ukrainian language, and they were voiced by famous Ukrainian stars. So, actress and presenter Olena Kravets and producer, singer, showman and co-founder of the production center MOZGI Potap (Olexii Potapenko) gave their voices to the main characters of the cartoon "BRAVING RABBITS". And the rhythmic and vivid soundtrack for "210 Good Deeds" was recorded by the popular band TNMK.
Ivanna Naida , general producer of niche TV channels of the 1+1 media group , comments: "We are sincerely glad to support our colleagues and act as the main media partner of this initiative. PLUSPLUS, as one of the largest producers of animated content among TV channels, understands how difficult it is to create a high-quality and interesting product and how many resources and efforts are behind it. Therefore, it is very important and valuable to instill a love for Ukrainian animation and thereby popularize the content of the producers."
Soft light, quieter than usual sound and time selected for children, from 11:00 a.m. to 5:00 p.m. - a great idea to visit the cinema with the whole family. Every month, a new selection of cartoons is scheduled for screening, and the trailer for the 2nd issue can be viewed from the link . Watch also the animated series "BRAVING RABBITS" every day at 08:00 on TV channel PLUSPLUS.
Read also