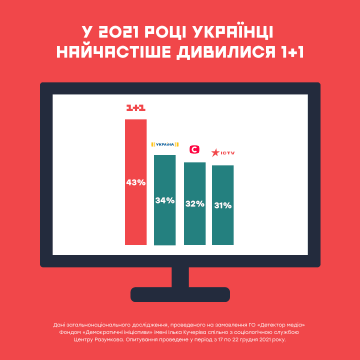 1+1 TV channel became the leader in terms of trust and popularity among Ukrainians in 2021
1+1 also topped the list of leading TV channels based on the trust of TV viewers. Yes, 21% of respondents trust the TV channel.
When choosing the media as a source of information, the majority of respondents reported that they pay attention to the interest of the materials (57%), non-involvement of information presentation (38%), promptness of event coverage (38%), convenience of information presentation (33%) and closeness of views (29%) ).
The survey was conducted between December 17 and 22, 2021.
More information at the link: h ttps://cutt.ly/MPs0US E
It will be recalled that the 1+1 TV channel became the leader in general viewing in January 2022. The average view share of "pluses" in January was 12.28%, and the number of generated contacts was 1.16 million. Detailed overview and even more data at bigdataua.com : h ttps://cutt.ly/FPs0Xw N
Read also