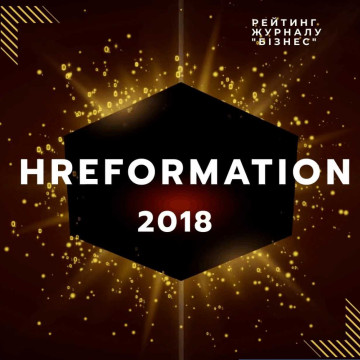 "BIZNES" magazine included 1+1 media among the best employers of Ukraine in 2018
The 1+1 media group, the only one among Ukrainian media holdings, entered the TOP-10 of the " Business HReformation 2018. The best employers of Ukraine " rating, which was formed by the magazine "BIZNES" together with an expert council consisting of leading HR directors and the Association of Personnel Management Specialists HRForum.
1+1 media took first place in the rating in two nominations - "Best strategy on the HR market" and "Best social program". The holding became the company whose HR strategy was determined to be the most effective solution in the field of HR for attracting and retaining talent, and the CSR strategy was determined to be the most effective in the field of personnel education used by employers in 2018.
The management team of 1+1 media became one of the leaders of the rating and took 2nd place in the "Strong top management - Dream Team" nomination. In it, experts identified those companies whose top manager or management team can be a decisive factor for choosing an employer.
Also, the group entered the TOP-10 of the "Stable Development" nomination, among which companies were selected that were able to implement a successful long-term strategy in the field of human capital management, which has been tested by time and crises.
"It is very nice to see that the results of 1+1 media's work have been chosen by the industry as those to be emulated. First of all, it is the merit of the team, both Eichar and the entire group, for which I would like to once again express a huge thank you. This year's achievements are not a reason to stop, but a great motivation to set the bar for development in 2019 even higher and, being impressed by the results, go for it," commented Larisa Brouver, HR director of 1+1 media.
The winners in the categories were determined on the basis of an integral indicator that combined the evaluations of the companies by experts, the editors of the publication, and the results of the votes of BIZNES readers, and were announced on December 20, 2018.
Read also