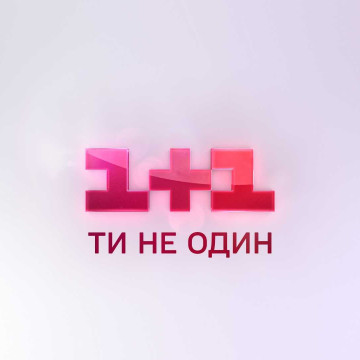 2 million users on the 1+1 YouTube channel
"1+1" is a nationwide Ukrainian-language TV channel, one of the leaders of domestic TV production and the most favorite TV channel of millions of Ukrainian viewers. According to the recent all-Ukrainian national representative survey by Info Sapiens, among Ukrainian TV channels, residents of the country watch the "1+1" channel most often and continue to trust it the most.
The first video uploaded on the 1+1 YouTube channel was a report by "TSN Varta" about what means Ukrainians resort to in order to hide their car numbers from the traffic police. Over 10 years, it has gained more than 220,000 views.
The most popular videos on the channel by the number of views include:
· in Andriy Khlyvnyuk 's performance "Spy sobe sama" at the concert "Skryabin. Concert of memory" (8.6 million);
· TV series "The Witch", 1 series (7.6 million);
· in the performance of the band "Skryabin" with the song "Mam" at the concert "Skryabin. Concert of memory" (6.9 million);
· e xcursion of Tina Karol's house from the " Secular Life " program (5.1 million).
And the most rated video, which has collected more than 10 million views, remains to this day the performance of the band "Time and Glass" at the YUNA 2019 music award.
A number of YouTube channels of the 1+1 media group received gold and silver buttons — unique video hosting awards. In particular:
- gold and silver buttons have the channels of the show "Voice of the Country", TV channel 1+1, TSN and the series "School".
- silver buttons have YouTube channels of the programs "Worldly Life", "Breakfast with 1+1" and the show "Dancing with the Stars".
There are also such awards on the YouTube channels of the TET TV channel and the travel show "The World Inside Out", and soon their collection will be replenished with gold buttons.
Also popular is the 1+1 account on Instagram, which has about 1.7 million followers and occupies a leading position among the largest Ukrainian channels, and the Facebook page of the TV channel has about 900,000 followers.
Read also