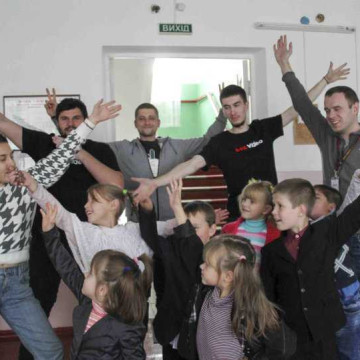 Relay of goodness from the Digital department of 1+1 Media
On October 10, 25 employees of the department went to the Potiiv special boarding school of the Zhytomyr regional council, where 117 children study and live. Some of them have musculoskeletal disorders, and some of them have developmental delays. The main goal of the trip was to show the children that regardless of difficulties, they have the opportunity to realize themselves professionally. Therefore, digital colleagues introduced high school students to the specifics of the work of a designer, programmer, web developer, tester, and editor. Developmental games were presented to younger schoolchildren and they were tested together. In addition, a new wheelchair appeared in the boarding school for easier movement of children, and the library was replenished with interesting books.
After learning and playing, everyone sang songs together with the guitar, and the restaurant Salateira treated the children to a delicious dinner. The "Relay of Good" project does not end there, and the baton has been handed over to the HR department.
Read also