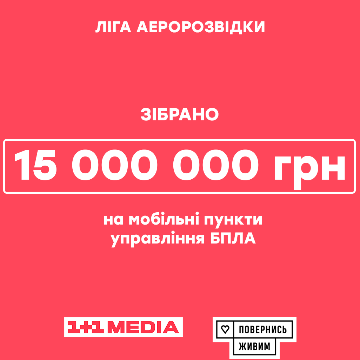 1+1 media group and the Come Back Alive Foundation raised UAH 15,000,000 within the Aerial Reconnaissance League project
Together, we managed to raise UAH 15,000,000 in charitable donations for the purchase of mobile UAV control stations
On 1 June, 1+1 media group together with the Come Back Alive Foundation closed an important fundraising campaign within the Aerial Reconnaissance League thematic project. Together, they managed to raise UAH 15,000,000 in charitable donations for the purchase of mobile UAV control stations. Thus, the team will be able to purchase five specially equipped vehicles, which are extremely important for Ukrainian reconnaissance men.
It should be noted that the organisers had set a goal of raising UAH 10,000,000, but thanks to the activity of all those who cared, they managed to raise much more money and close the fundraising earlier than the announced date. After all, people were encouraged to join the project as part of the football broadcasts of the 15th season of the UPL, the final of which is on 4 June.
"We are very impressed by the activity of both football fans and everyone who joined the collection. Together, we will be able to provide our defenders with 5 vehicles with everything they need for comfortable and efficient work of our aerial reconnaissance. All for the Victory!", comment the initiators of the Aerial Reconnaissance League project.
Those who cared made donations to the Foundation's special UAV Control Points bank account via a QR code placed during football matches broadcast on 1+1 media. They also joined the collection outside the matches through a special project account of the Foundation.
Additionally, the media group's sports editorial offices, PROFUTBOL Digital and FootballHub, launched a draw on social media for Come Back Alive calendars signed by Dynamo Kyiv football players. According to the plan, the organisers of the draw are to announce the winners at the end of the football season, but the proceeds will be transferred to another project that both Come Back Alive and 1+1 media are involved in - the We Live Here campaign. Its goal is to raise UAH 175 million to provide transport and all the equipment and property necessary for demining for 146 engineering and demining groups as part of the Armed Forces Support Force. The project was initiated by Kyivstar and the Come Back Alive Foundation, and 1+1 media group became a partner of the initiative. As part of the collection, you can subscribe to a monthly donation or make an individual contribution on the initiative's website.
Read also