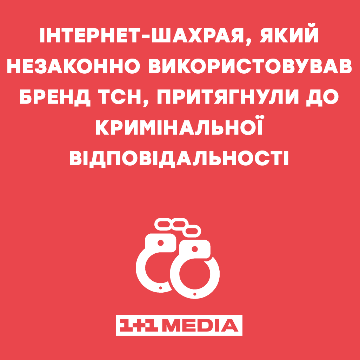 Internet fraudster who illegally used TSN brand brought to criminal responsibility
For the first time in Ukraine, an Internet scammer was brought to criminal liability for illegal use of the TSN brand
In September, an unprecedented case was reported: the Pecherskyi District Court of Kyiv passed a verdict in a case of fraud and illegal use of the 1+1 TV channel and TSN brand, in particular, and sentenced the offender to 5 years' imprisonment with probation.
The offender and his accomplices advertised their cryptocurrency investment services on social media and deceived gullible citizens, taking possession of their money. At the same time, they used the image and reputation of 1+1 TV channel and TSN, creating a number of fake videos and news stories to attract new investors.
Thanks to the joint actions of 1+1 media, Smartsolutions' lawyers and law enforcement, they first managed to detain one of the main suspects, who was receiving UAH 400,000 from another investor. Later, other criminals were caught. In total, the group consisted of 10 people, and their victims were often people in difficult situations. Eventually, all the defendants in the case were brought to trial.
The investigation established that the fraudulent group caused losses to Ukrainian citizens in excess of half a million hryvnias.
"By the verdict of the Pechersk District Court, one of the defendants, who pleaded guilty and compensated the victims a proportionate part of the losses, was sentenced to a 5-year suspended prison sentence with a 3-year probation period. We are satisfied with this verdict and expect similar verdicts against similar defendants, members of the criminal group," said Vitaliy Voloshyn, attorney at Smartsolutions.
Viacheslav Mienko, Deputy CEO of 1+1 media for Legal Affairs and Head of the Clear Sky Initiative, said that, unfortunately, such cases are not uncommon. Mostly, fraudsters use 1+1 media trademarks, images of hosts, and the identity of television programs to spread fake information.
"The 1+1 media brands and the hosts of our TV channels are opinion leaders, so they build the trust of the audience and, accordingly, fraudsters use this to promote narratives that allow them to lure money from people. This phenomenon is terribly dangerous and, in addition to having a negative social impact, it also damages the company's reputation. However, I believe that this situation will be indicative for all online fraudsters who still hope that their activities will go unnoticed," commented Vyacheslav Mienko.
In turn, 1+1 media calls for a critical attitude to any information, checking the source and reporting such cases if a fake is found.
"Creating a culture of media literacy in society is one of the tasks of 1+1 media and the Clear Sky Initiative. Accordingly, together with our partners, we will continue to do useful things and convey important information to millions of Ukrainians," summarized Vyacheslav Mienko, Deputy CEO of 1+1 media for Legal Affairs and Head of the Clear Sky Initiative.
Read more in the TSN story at this link.
Read also