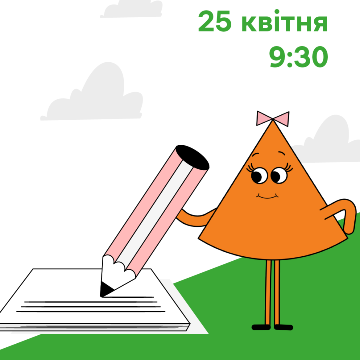 "Osvitoria and PLUSPLUS to hold an open online lesson on Ukrainian poetry for students in grades 5-7
The Osvitoria Educational Foundation and PLUSPLUS TV channel, a part of the 1+1 media group, will hold an open online lesson on Ukrainian poetry. The lesson will be taught by Nataliia Rudnytska, a finalist of the Global Teacher Prize Ukraine 2018.
The all-Ukrainian online lesson "Forgive poets for their strangeness: not many poets live on earth" will take place on 25 April at 9:30 am. The lesson will be broadcast on Osvitoria's Facebook page here.
The online lesson is being held at the initiative of the PLUSPLUS TV channel as part of the all-Ukrainian project "Plus Ukrainian" by 1+1 media. The development of the lesson and methodological support is provided by Osvitoria.
The lesson is designed for students aged 10-12. It will help students learn more about poetry and its content, listen to poems by classical and contemporary poets, try their hand at poetry and learn a poem during the live broadcast.
The theme of the lesson is "Forgive poets for their unkind strangeness...", a quote from a poem by Borys Oliynyk. "You should not take this text literally, because the poem is not about poets, but about poetry. It's about how poets see the world in a special way, how they can read between the lines," explains teacher Natalia Rudnytska, a finalist of the Global Teacher Prize Ukraine 2018. Natalia plans to build a lesson without complicated technical tasks. "The tasks will be similar to an interactive game where children seem to choose something and then the correct answer appears. I will build my story as a dialogue with the audience," she says.
The content of the lesson will include episodes of the animation project "We Speak Ukrainian" created by PLUSPLUS TV channel, namely, about common language mistakes when learning the native language.

Ivanna Naida, General Producer of PLUSPLUS TV channel, comments: "PLUSPLUS TV channel fulfils an important social mission by encouraging children and their parents to learn Ukrainian language and literature in depth. For this purpose, in 2021, together with the Ministry of Culture and Information Policy of Ukraine, we implemented an important animation project "We Speak Ukrainian", and now we are involved in the implementation of the large-scale initiative of 1+1 media "Plus Ukrainian". And on 25 April, together with our partners and like-minded people - Osvitoria - we are announcing an open lesson to tell children about the importance of poetry in our lives. We hope that this lesson will be an additional motivation to study Ukrainian poetry and the stories of our incredible artists."

"It is extremely important for us at Osvitoria to offer accessible and modern learning formats, as well as to support the initiatives of our partners aimed at their dissemination. Children like original teaching approaches, so I am sure that this interactive lesson will resonate with students and allow them to show their creativity. Students, teachers and parents from all over the country will be able to join the online lesson and discover unexpected pages of Ukrainian poetry and language," adds Zoya Lytvyn, head of the Osvitoria NGO.
"Let's Speak Ukrainian" is an animated, socially important project created with the support of the Ministry of Culture and Information Policy of Ukraine to promote the Ukrainian language among children. The project explains the rules and features of the Ukrainian language in a playful, animated and entertaining way. Traditionally, each of the short, animated stories, featuring PLUSPLUS world characters, deals with a specific situation of common language mistakes. The goal of the "Let's Speak Ukrainian" project is to get children interested in speaking Ukrainian more confidently and competently, to get rid of mistakes in Ukrainian communication, and to inspire as many young Ukrainians as possible to communicate in their native language.
Read also