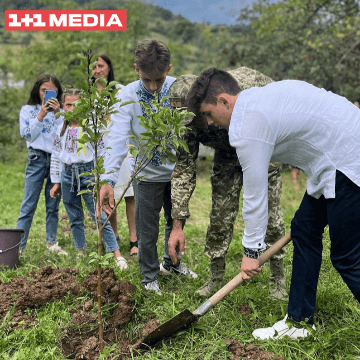 As part of the Grove of Children's Dreams project, 1+1 media group plants trees in memory of children whose lives were cut short by war
On 24 August, 1+1 media group together with the Greening of Ukraine Charity Foundation started planting trees in memory of children whose lives were cut short by the war as part of the global environmental initiative Greening of the Planet.
The first tree was planted in Vytachiv, Kyiv region, and dedicated to 6-year-old Sofia Golynska, who died on 19 August as a result of a rocket attack on the centre of Chernihiv. A report by 1+1 Breakfast is available for viewing here.
Recently, Kolomyia Lyceum No. 2 in Prykarpattia joined the large-scale all-Ukrainian movement. On the occasion of the start of the school year, on 1 September, the students planted a tree in memory of 8-year-old Volodymyr Balabanyk, who was killed on 11 August as a result of a Russian missile strike in Ivano-Frankivsk region. In addition to Volodymyr's classmates, the planting was attended by the boy's parents. His first teacher also shared her fond memories of Volodymyr Balabanyk in a special TSN story, noting that he always brought joyful emotions.
The memory of Volodymyr Balabanyk and all the children who died was also honoured at the Ripne Lyceum in Prykarpattia. Eleventh-graders planted trees on the school's grounds.
Hanna Krysiuk, co-organiser of the project and head of the Greening of Ukraine charity foundation, was personally present during the planting and explained in more detail why the team plans to continue planting paradise apple trees, creating a separate grove of 500 such trees.
You can learn more about the initiative and watch the full version of the TSN story about tree planting at this link.
We would like to remind you that the project will be implemented throughout the year by the teams of 1+1 media, "Breakfast with 1+1" and TSN, together with the Greening of Ukraine Charitable Foundation.
Read also