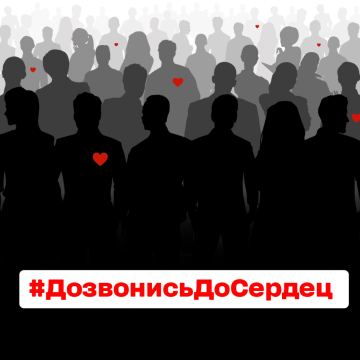 1+1 media joined the volunteer movement #CallRussia
1+1 media, together with volunteers, channel stars, partners, experts and employees, continues the information wave of countering propaganda and fakes of the Russian Federation.
On March 8, the international information campaign #CallRussia was launched, the goal of which is to tell 40 million Russians the truth about the war in Ukraine and call for an end to the killings by all possible means. This Vilnius initiative has a simple goal: with the help of phone calls by Russian-speaking volunteers from all over the world, to provide the residents of the Russian Federation with facts about the Putin regime's attack on Ukraine.
A campaign site program for each volunteer C allRussia.org will automatically generate individual phone numbers for 40 million Russians. Also, all interested parties will be given recommendations on how to conduct a calm, balanced conversation aimed at overcoming misinformation.
1+1 media appeals to all Ukrainians and the Russian-speaking population of the world to join the partners' campaign and help reach Russians by telling them the truth about what is happening. In addition, the stars of 1+1 previously took part in similar initiatives under the slogans #дозвонысьдосердец #скажи_россиянам_правду . In particular, in his video address, the presenter of "TSN. Week" Alla Mazur proposed to hang up the phones of acquaintances or relatives who live in Russia, and to have a difficult but necessary dialogue with them, because there is no access to objective information and news there. Actress Ksenia Mishin a recently also supported such a flash mob on her Instagram page, earlier the initiative was supported by 1+1 presenters Yuriy Gorbunov, Solomiya Vitvitska, Nataliya Ostrovska, Svyatoslav Grynchuk and others.
"Now, without exaggeration, we use all possible methods to combat Russian fakes and all communication channels for dialogue with the Russian audience. Our goal is to reach millions of Russians, at least to remove the veil from the many years of propaganda and falsehood that the government of this country hides behind. At the moment, we can't do this through social networks, so it's time for regular phone calls and conversations that can change the course of history. After all, the Russians themselves can overthrow Putin's regime. We sincerely hope that they will not lack courage for this. We thank the partners and volunteers from all over the world who care about our problems and challenges ," commented 1+1 media.
The initiators of #CallRussia are convinced that it is now extremely necessary for Russian-speaking residents of countries around the world to join the campaign and, by making at least one call, make an effort to break through the information blockade of Russian society, which is intensifying, and thus try to jointly oppose Russian state propaganda.
"One call will not defeat Putin's aggressive propaganda, but 40 million will. Only people who possess the truth and have compassion will be able to stand up to Putin's lies and put an end to this war," the organizers of the action from Lithuania say.
For more information on how to join the awareness campaign, visit C allRussia.org and follow the hashtag #CallRussia at Twitter _ F aceboo k and Instagram _
Read also