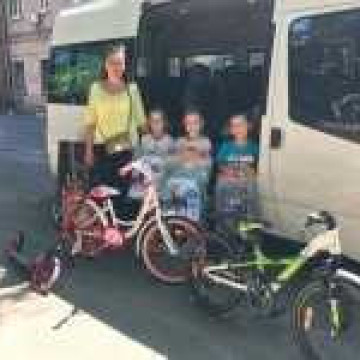 "Relay of Good" from TSN
Our colleagues from TSN decided to help the heroes of their news - a large family from Kyiv - prepare for school.
For the first time, Iryna Markevich, a journalist of TSN, filmed a story about them seven years ago, when their mother, Iryna Kuhar, was abandoned by her husband because he found out that she was pregnant with triplets. She was left alone with three babies. The TSN team maintained contact with the family. And now, when the children are 7 years old, they go to the first grade, they decided to help their mother collect the children for school.
For the little ones, TSN employees bought uniforms and backpacks and, of course, filled them with the necessary stationery. Also, they were given 2 bicycles and a scooter so that they could spend time actively after school.
We hope that we inspire you at least a little to do good deeds!
The "Relay of Good" from the TSN team is handed over to the colleagues of the PLUUS PLUUS TV channel.
#EstafetaDobra1plus1media
Read also