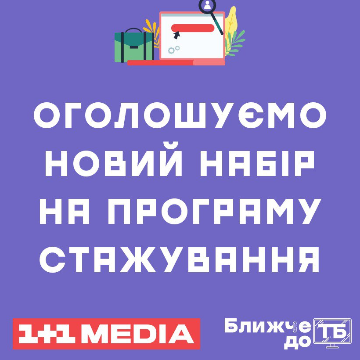 1+1 media Group relaunches internship programme "Closer to TV" and announces the search for interns
Students and university graduates will have the opportunity to gain their first professional experience in the company
Recently, 1+1 media group has announced a call for applications for the "Closer to TV" internship programme, which has been helping those who want to start a career in the media industry for over 8 years. During this time, hundreds of students have had the opportunity to gain practical knowledge and skills from the best professional mentors. In addition, many graduates of the programme have continued their cooperation with 1+1 media, joining the team as employees.
"Last year, our internship programme was on a forced pause due to the outbreak of a full-scale war. However, now almost every day we receive inquiries from students and university graduates about possible internships at the company. That's why we decided to launch a new wave of the Closer to TV programme. And we are looking forward to hearing from everyone who is ready to implement socially important initiatives with us and continue the fight on the information front," 1+1 media commented.
This year, the internship will consist of 2 stages and will last for 5 months in summer and autumn. Currently, there are about 15 vacancies for everyone to try their hand at. Among them: PR specialist, SMM and website editor, content maker, correspondent/journalist, editor, platform development and support engineer, legal advisor, computer support engineer, administrative department specialist, junior financial analyst, UI/UX designer, junior customer service specialist, VOD portal content manager. The current list of vacancies is available at this link and will be updated.
In addition to acquiring real skills in their chosen field and networking with top industry professionals, the finalists of the 2nd stage will receive a symbolic scholarship from the company. In addition, upon completion of the programme, the trainees will be awarded diplomas confirming their knowledge and practical skills, and the finalists will be included in the talent pool and, if a vacancy is available, may be interviewed on a general basis and join the Plusiv team.
Detailed information about the "Closer to TV" programme, conditions of participation, vacancies and requirements for candidates is available on the official website of 1+1 media at this link: https://media.1plus1.ua/career/internship
Read also