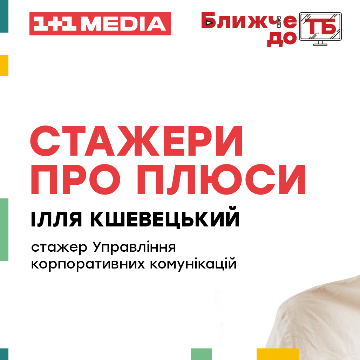 Ilya Kshevetsky, intern at the Corporate Communications Department
Ilya spoke about his most vivid memories of his internship at Plus, how his studies at the Faculty of History helped him in his work, and shared his impressions of working for his dream company.
On choosing a career path
I study at the History Department of Taras Shevchenko National University of Kyiv. As for whether I was able to apply the knowledge I gained during my internship, I can answer as follows: at the History Department, we constantly joke that we will never be historians, but studying makes us be creative, be able to search and analyse information and talk confidently about something, even when you are not at all sure about it. So some of this knowledge came in handy during my internship.

At the interview, I just tried to be myself, answering questions and asking about the things that interested me. So later I got a call from 1+1 media with a favourable response. To be honest, I still can't believe it :) On the first day of work, I was probably a little nervous, because it was a new challenge, new people... But I can say for sure that I was delighted with the office, because I had never been in one before.
Impressions of the internship

As a PR intern, I have completely different tasks: from "interviewing colleagues" or "helping with the filming process" to "updating the Plyus Library" or "transporting equipment for filming". Perhaps the fact that I am involved in a wide variety of tasks makes me very interested in them.


The team also influences the result of work, and I can say that I am really lucky, because everyone is very friendly and easy to accept into the team. So whenever I have any questions, I get instant feedback and support. They don't leave me to my own devices and always meet me halfway, which is very nice.

As for what drives me, it's work, tasks and the desire to achieve my goals with excellent results. Now I can say with certainty that nothing motivates you to work and does not motivate you like the goal you are striving for. I'm pleased when you complete one task, then another and so on, and then look at yourself and think: "Oh, I've done so much today, I'm great!", and then you instantly realise your significance and feel overwhelmed with inspiration at that moment.
Brightest memories and advice for future interns

"The most valuable thing I got at 1+1 media was experience, because theory is somewhat different from practice. I consider the internship at Plus to be a great first step for further development. It was here that I realised for myself what type of activity I like best, what my strengths are, and what areas need to be developed. The internship programme is still ongoing, so I am sure I will gain even more insights in the future.

One of the brightest and most memorable projects for me was "How are you holding up?" because it was within this project that I was taught how to edit video. It's also very interesting to communicate with colleagues who work in different fields and openly share their experiences with you. In addition, shooting videos for TikTok as part of the Plus Ukrainian project was a completely new experience for me. Still, I'm most proud of the fact that I was able to update and disassemble the Plus Library - it takes a special place in my box of achievements :)

To future interns, I would like to say: try yourself in everything you are interested in, get out of your comfort zone. Absorb information from experienced colleagues and do your work in such a way that you are not ashamed of it in front of yourself!
Read also