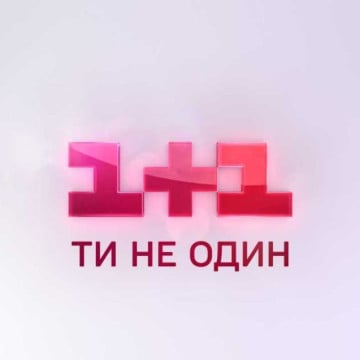 Channel "1+1" will show the film "1+1. 25 years you are not alone"
This year, the TV channel "1+1" is celebrating its 25th anniversary. Especially for the holiday , on September 12 at 10:00 p.m. , the premiere of the film "1+1. 25 years, you are not alone" , in which viewers will be shown how the country and the TV channel "1+1" have changed over a quarter of a century, and will also be reminded of their favorite TV projects on "Plus", which started modern Ukrainian television. Popular stars, producers, opinion leaders share their thoughts on the meaning of "1+1" for the country, memories and behind-the-scenes details. In particular, Ukrainian celebrities, whose creative development has been watched by the channel's viewers for many years in a row, in exclusive interviews for the film recalled themselves in September 1995, when the "1+1" channel was born.
Thus, Nataliya Moseychuk , the host of the "Right to Power" program and TSN, recalled the 25-year past: "Obviously, in September 1995, I was a student at the Zhytomyr State University. I studied at the faculty of foreign languages, and it was my last course. As modern students say, I was already on "on-board" training, that is, almost remotely, since I simultaneously worked for Zhytomyr Regional Television. In the early days, I could go to the first couple of classes, then I would run to write notes for TV programs, and then I would return to the faculty again for another class. That's how I "drifted" between television and the university, and that 's why I remember 1995 very well."
Showman, producer, presenter of "Dancing with the Stars" and "Voice of the Country" Yuriy Gorbunov admits that his life is connected with " 1+1" almost from the first day of the channel's existence. "In September 1995, I worked at the Ivano-Frankivsk Theater and was the director of the radio station "Zachidny Pole". Televisions were black and white then, and many people switched them with pliers. At that time, TV and radio fairs were held on the ships of the river station. I remember that during one of these presentations Oleksandr Rodnyanskyi, who was still unknown to no one at the time, appeared on the stage and said: "A new era of Ukrainian television is beginning, the channel "1+1" will start tomorrow," Yuriy Gorbunov recalls.
In 1995, Ruslan Senichkin , host of "Breakfast with 1+1", was a first-year student at the Dnipropetrovsk College of Automation and Telemechanics. " I studied to become a junior computer engineer, studied crystal physics and even the applied theory of digital automata. To be honest, I don't know exact sciences very well, but I graduated from college without threes, - the presenter recalls. - In general, in 1995 I was young, poor and with great ambitions. Lived on a scholarship. And if you managed to finish the academic month without threes, you were paid as much as 9 hryvnias. With this money, you could go for a walk, but only for one day."
Dmytro Komarov, the leader of the "World Inside Out" project, was 12 years old at the time of the founding of "1+1", and he was already taking his first steps in journalism - learning to take photographs and write articles. Also, the TV presenter recalls this time as financially difficult for the entire population. "Everyone was practically on equal terms. Our family and the families of my classmates are no exception. The wages of adults were enough to simply minimally support viability. During the summer vacations, I worked, in particular as a construction worker, to help my family and fulfill my small dreams , - says Dmytro Komarov. - We had an "Electron" TV at home with a round color screen, but without a remote control. My dad and I made a remote control for it ourselves, and that's how I started watching "1+1" for the first time.
Ukrainian artist Dzidzo also spoke about his 1995. "It seems that I was transferred from school to the Novoyariv Lyceum, and I couldn't figure out how to remember the way to it," the singer recalls with a laugh. - In general, for me, even though I was a child, the 90s were a complete bad taste. That's in everything. And I liked the picture of the "pluses", it seemed that the designer worked on this matter. The channel's logo was particularly eye-catching. I can evaluate and compare like this now, because at that time I lived in Novoyarivsk, where the TV could not catch Ukrainian television because of the high mountain. But my house was directed to Poland, so I watched the channels of that country. And the Polish channels reminded me of "1+1". I was very happy that finally something fashionable started in Ukraine."
Find out more interesting memories and exclusive details about "1+1" and its cult projects from the mouths of producers and stars soon in the film "1+1. 25 years, you are not alone" , as well as on platforms and 1+1 video.
Read also