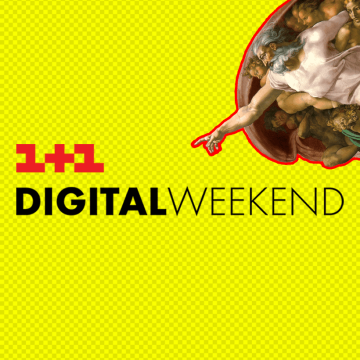 The 1+1 Digital team has announced the 1+1 Digital Weekend in 2020
For the third year in a row, the 1+1 Digital team will hold a series of educational events in the 1+1 Digital Weekend format, focusing on the topics of content, media and technologies that change them. In 2020, the event will start again with a series of free educational events 1+1 Digital Weekend.Regions and will end with a gala final in Kyiv.
As part of the regional educational and social tour, 1+1 Digital Weekend will visit Dnipro on March 21, Mariupol on May 16, and Lviv on June 6 . This year, participants will be treated to a one-day intensive "Inspire & Use". The 1+1 Digital team will share the experience of their own cases and talk about the features of creating products at the intersection of technology and media - from project development, creativity, storytelling to adaptation and monetization of content on various platforms. The program in cities is available on the website.
"Last year, we visited the regions for the first time with the 1+1 Digital Weekend program and received a huge number of requests from participants who came from other cities. The team and I were amazed at how interested and involved the audience was , and we were convinced that there is actually a lack of events in the regions that would reveal the topic of the digital direction. Therefore, this year we expanded the geography of our educational tour to continue sharing our knowledge and experience," says Anna Tkachenko, director of 1+1 Digital and Innovation
The program in Kyiv is already being formed and will be published on the project website in the near future, and in the meantime , participants have the opportunity to purchase a ticket to the event at the price of Sony c - type . As last year, the event will be held in the capital non - profit , that is, the organization of the event is provided at the expense of proceeds funds
We will remind you that last year 1+1 Digital Weekend was held in Odesa, Kharkiv, Ivano-Frankivsk and Kyiv, the event was attended by more than 2,000 participants. How it was last year in Kyiv , you can remember here .
Join the event:
Read also