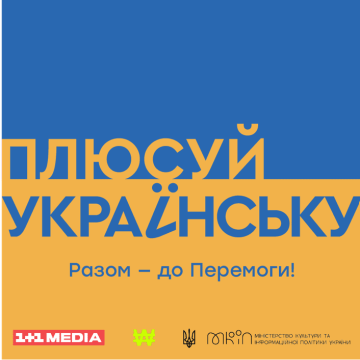 The teams of 1+1 media, WAW and MKIP call to increase Ukrainian on International Mother Language Day
The teams of 1+1 media, WAW and MKIP call to increase Ukrainian on International Mother Language Day
Video: https://youtu.be/z0H6yQG3leU
Every year, on February 21, the world celebrates International Mother Language Day. On this occasion, the teams of 1+1 media, WAW and MKIP released a special video from a series of thematic videos calling for the promotion of Ukrainian.
The thematic video material, available for viewing at this link , tells about how many spoken languages of the world are in danger of disappearing. In particular, the main reason for their disappearance is revealed - speakers stop communicating in their native language.
"Every ten years, UNESCO publishes a list of languages that are in danger of disappearing. Unfortunately, the Ukrainian language was also once on this list. So, in order not to lose our national identity, to distance ourselves from the enemy forever, we at 1+1 media, together with WAW and MKIP, call to add Ukrainian today. International Mother Language Day is a good opportunity for this," 1+1 media notes.
In addition, the creators of the video recalled how for centuries Ukrainians have fought for their right to speak Ukrainian, quoting the Commissioner for the Protection of the State Language Taras Kremin:
"Ukrainians have been fighting for their right to speak Ukrainian for more than 350 years. And today, every citizen must defend it, because, as is known, there is no native language and no native people."
We remind you that the thematic videos created by the WAW: alternative media team are available for viewing and sharing on YouTube channels: 1+1 media , 1+1 , TSN . And also on social networks Instagram and Facebook - WAW , MKIP , 1+1 and 1+1 media . The key goal of the videos, which are published biweekly on Digital sites and broadcast on television, is to introduce the concept of "informational hygiene" when consuming content among Ukrainians and to demonstrate how the quality of everyone's life can change if they start speaking Ukrainian or improve their knowledge of the language in every way.
certificate
On February 7, the 1+1 media group announced the launch of the "Plus Ukrainian" project, aimed at popularizing the Ukrainian language and culture, eradicating Russian content from the media field, and forming the habit of communicating in Ukrainian both at home and in other areas of life. The project will be implemented during 2023 together with WAW: alternative media and with the support of the International Committee of the Red Cross.
The main platforms of the project are Facebook and Instagram 1+1 media, 1+1, WAW and MKIP, YouTube 1+1, the project page on TikTok, TSN.ua sites , UNIAN, Glavred and 1+1, TV channels 1+1 Marathon, 1+1 Ukraine, TET and PLUS PLUS.
Read also