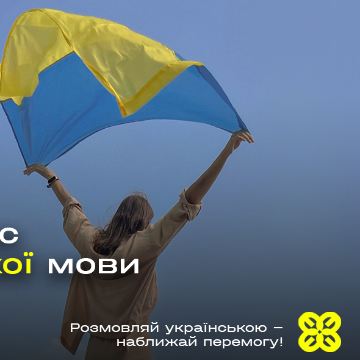 1+1 media partners "Yedyny" launch 17th free Ukrainian language course
The All-Ukrainian Movement "United," which is a partner of the 1 + 1 media group within the framework of the Plus Ukrainian project
Currently, registration for one-month training is underway at this link, during which participants will expect daily tasks and educational materials, webinars and online lectures, audio materials for better learning, as well as conversation clubs with the involvement of speakers from 1 + 1 media.
The course will start on Monday, September 4. Duration - 28 days. Participation is absolutely free of charge, and anyone from anywhere in the world can join the course. By the way, the support of "United" in the transition to Ukrainian has already been used by about 100 thousand people who have successfully overcome both language and psychological barriers!
More information about the recruitment and ambassador of the September course is available at this link: https://yedyni.org/.
In addition, the All-Ukrainian Movement team holds free speaking clubs in the de-occupied and frontline territories, which now operate in 28 cities of Ukraine, as well as abroad - in Lublin, Warsaw, Rotterdam, Vilnius, Helsinki, Prague and Cyprus, are launched in Scotland, Italy and other countries.
Project partners: 1 + 1 media Group within the framework of a large-scale communication campaign "Plus Ukrainian," Department of Youth and Sports of Kyiv, Ukrainian-Polish Education Center "UniverPL," Young Business Club, EdEra - online education studio, Support Center "I - Mariupol," Ukrainian Library Association/Ukrainian Libl rary Association, CMC Gender Equality, Prevention and Combating Violence, Call center Adelina.
Read also