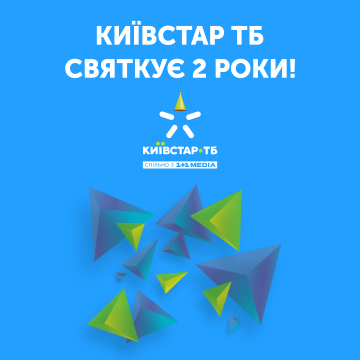 The Kyivstar TV online television platform has turned two years old: a brief summary of the main points
Pavlo Rybak , head of Kyivstar TV, comments: "We are constantly replenishing the library with content of various genres, both foreign and domestically produced, so we invite viewers to join our marathon of exclusive premieres. We are glad that viewers have the opportunity to choose informative, entertaining, educational or sports products for themselves. We strive to continue to support Ukrainian producers and broadcast local content, as well as offer subscribers even more exclusives and pre-premiere screenings, appreciating their choice in favor of Kyivstar TV."
This year, seven exclusives from Ukrainian productions were released on the Kyivstar TV platform, including "Kryposna", "Crazy Wedding-3", "Slavs", "Voice of the country. Reboot", "Lipsync Battle", "The World Inside Out" and "Blind Marriage". In addition, the audience had the opportunity to be the first to watch the TV series "Jack & London", "Angels-2", "My Favorite Scarecrow", "Cop Wars. Kharkiv-3" and "Opera on call-5" before their television premiere.
In October of this year, a separate section with audio fairy tales in Ukrainian appeared on Kyivstar TV, which includes over 350 folk and author's works, as well as over 1,500 cartoons and animated series, the most popular of which are "The Smurfs", "SpongeBob SquarePants", " Shrek", "Madagascar" and "Paw Patrol".
Also, one of the advantages of the platform is the ability to view content from five different devices. Subscribers most actively use the platform from a smartphone (50%), 30% prefer TV, 14% of viewers prefer TV set-top boxes, and only 6% use tablets and laptops. And in general, users of the platform view content about 80 hours a month.
Read also