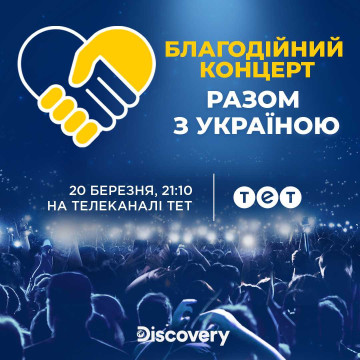 "Together with Ukraine" - a large charity concert will raise funds to help the citizens of Ukraine
On March 20, at 9:10 p.m. , the TET TV channel will broadcast an exceptional charity concert "Together with Ukraine".
During the "Together with Ukraine" concert, the biggest stars of Poland and Ukraine will perform on the "Atlas Arena" stage in Lodz. Among them are Tina Karol, Dagadana, Jerry Gale, Vito Bambino, Krzysztof Zalewski, Igo, Darya Zavialov and others. The repertoire of the evening includes modern works and those that have already forever entered the history of Polish and Ukrainian music. Prominent Polish actors also joined the project - in particular, Maya Komorowska, Danuta Stenka, Vanessa Alexander, Andrzej Severyn, who will complement the musical part of the event with their performances.
"Together with Ukraine" is an unusual musical event organized as a sign of solidarity with people fleeing war. All funds collected from the sale of tickets and SMS messages that can be sent during the event will be donated to the Polish Humanitarian Action, which has been conducting a permanent mission in Ukraine since 2014.
Music director: Wojciech Urbanski.
Event concept: Hanna Stavichenko.
Event organizer: Follow the Step agency.
Television partner: TVN Group Discovery.
Watch the broadcast of the charity concert "Together with Ukraine" on the TET TV channel on March 20 at 9:10 p.m.
Everything will be Ukraine!
Read also