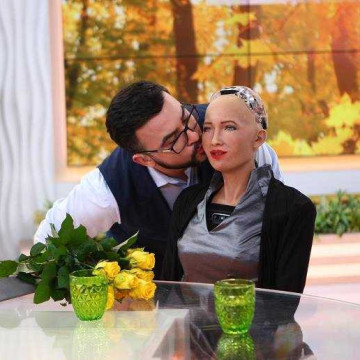 Ruslan Senichkin became the first man to kiss Robot Sophia
Host of "Breakfast with 1+1" Ruslan Senichkin became the first man in the world to be allowed to kiss by the famous humanoid robot Sofia. This happened today, October 12, on the live broadcast of "Breakfast", where she visited together with the representative of AngelVest in Ukraine, venture investor Mark Ginsburg.
Sofia spoke Ukrainian in the morning show. "Congratulations! Thank you for the invitation," she said, and then answered the presenters' questions in English. This is Sofia's first visit to Ukraine, and in an exclusive interview with Ruslan Senichkin and Lyudmila Barbir, she admitted that she was most impressed by the calmness of Ukrainians and their technological ambitions. She advised to imagine more how you can improve your life, make a plan and follow it.
The presenters could not avoid talking about Sofia's personal life, dreams and dating with Hollywood actor Will Smith. Then Will wanted to kiss the robot, but she refused and suggested that they remain friends. Sofia admitted to Ruslan Senichkin that she plans to start a family of her own and is currently looking at applicants for her hand and heart. The host decided to try his luck and, presenting Sofia with a bouquet of roses, asked if he could kiss her. But to the surprise of the developers and viewers, the guest from the future agreed with a smile. This is the first historical kiss between a robot and a human. But after that, Sofia dared to tell the company's investor, Mark Ginzburg, that she was waiting for an invitation for herself, but already during the "Dinner with 1+1". In turn, Ruslan offered to prepare dinner and treat the girl to electronic meatballs.
Now the presenter is waiting for the developers to create Sofia's legs, because he continues to gain experience on "Dancing with the Stars" and is ready to spin Sofia in a waltz. However, Mark Ginzburg noted that Sofia will not be able to dance in the coming years. "But we are working on expanding its functionality. Next year, Sofia will already walk," he added.
Finally, the robot girl told the hosts about her cherished dream: she wants to become an outstanding scientist and inventor in order to build peace on Earth.
In addition, Sofia admitted to TSN presenter Sviatoslav Grynchuk that she met many talented people in Ukraine, and with such people, the country has a great future, it is only necessary to make sure that they do not move abroad in search of a better fate and work on the development of our state.
Little dreamers, participants of the art marathon #МояДытячаМрия also visited behind the scenes of "Breakfast" to meet the world-famous robot Sofia.
It should be noted that Sophia was created in the image and likeness of the famous actress Audrey Hepburn and has the citizenship of Saudi Arabia.
Video .
Read also