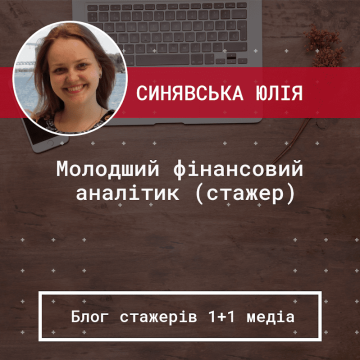 Yuliya Sinyavska - Junior financial analyst (trainee)
More recently, I could only dream of an internship at 1+1. My dream has come true - I'm currently writing an article for an intern blog and I still can't believe it's happening to me. I made my first ever video resume as soon as I saw the announcement for a new set of interns. Of course, there were hesitations, but I really wanted to join the team of professionals and see what was going on inside. And so it happened. I am an intern at a large media group.
And the most interesting began. Getting to know the employees of my department, the first important tasks, the work you are doing for the first time. When you are assigned a task, at first it looks incomprehensible and difficult, but quite interesting. Later, when you start to understand everything on your own, you realize that it was not as difficult as it seemed at first glance. And I already want new tasks and challenges. Here you feel like a part of the team and understand that all work is a complex mechanism in which everyone is involved.
There were also meaningful seminars by employees on media activity. And also a meeting of all interns, where everyone told what they do. As a result, a real picture of the company's activities as a whole emerges. In general, it was interesting and fun. I learned a lot of new and useful things for myself.
The internship time flew by very quickly and I do not regret coming to 1+1 media. Here I gained a lot of experience and practical skills of working and communicating with the team. People work here who are always ready to come to your aid, show you the right path and direct all your knowledge, skills and energy in the right direction.
Thanks to everyone who developed the internship program. This is a chance for everyone to test their capabilities, find themselves and show everything they are capable of. After all, you are capable of more than you think.
And finally, I want to say that you need to believe in yourself and your strengths, that everything will work out if you try hard, dream and live with positive emotions. Never give up, pick yourself up when you fall, and always keep moving forward. Do not be afraid to make a mistake, because only the one who does nothing does not make a mistake. When you really want something, make every effort and the whole world will help you in it. Remember - dreams do come true...
Read also