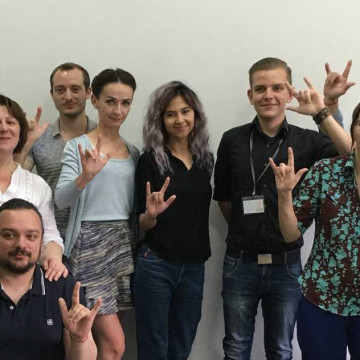 "TET" TV channel accepted the "Relay of Goodness"
Do you remember that the "Relay of Good" moves through the divisions of 1+1 media? We are ready to share another good deed with you!
On June 14, TET TV channel employees invited 13 deaf young people to the office who are interested in television, the filming process and work in social networks with content and its promotion. Mykola Vaganova (pictured), TET Marketing Director, Violeta Smolyankinoi (pictured), broadcast designer, and Nikita Kostogloda (pictured), SMM specialist held a 3-hour meeting with them, where they talked about working with video material.
Guests had the opportunity to show their works, so that our colleagues could provide recommendations and point out areas for development. And already after the discussion, they received a homework - to shoot their video on any interesting topic for further distribution in social networks on the pages of the TET TV channel. We are already looking forward to the result and will definitely share it with you!
And "Relay of Goodness" was transmitted to TV channel 2+2. I wonder what kind of useful work colleagues are doing.
Read also