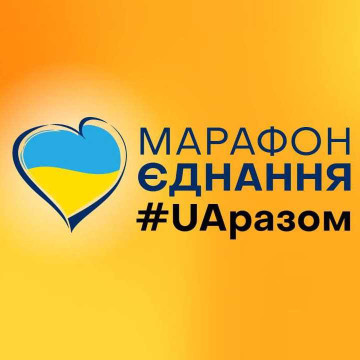 TV channels of the 1+1 media group will join the nationwide telethon #UArazom
On February 16, on the occasion of the Day of Unity, a joint national and regional telethon #UArazom will be held on the initiative of the ICIP. The marathon will consist of two special direct inclusions during the day from 8:00 a.m. to 10:00 a.m. and from 7:00 p.m. to 10:00 p.m. , and will unite a multi-million television audience.
The telethon will be joined by five TV channels of the 1+1 media group — 1+1, 2+2, TET, UNIAN TV and 1+1 International, and the stream will take place simultaneously on the T SN.u a and U NIA N resources . Accordingly, those television products that were scheduled in the time slots before the special programming will be moved to another time.
The 1+1 media group will be represented at the telethon #UArazom by the presenter of "Right to Power" and TSN Nataliya Moseichuk , who, together with her colleagues from other TV channels, will talk to the guests of the air and tell key news about the latest events in the country.
In addition, materials related to the coverage of the Day of Unity will be distributed on the holding's key information resources — in news releases, on news sites and in social networks.
"In such a turbulent time, it is important to concentrate on the most important thing and join forces around the topic of security, including information security. Together with our colleagues, we are organizing a telethon, the main goal of which is to show that we are strong in spirit, that we have enough resources to resist the enemy under any circumstances, and that keeping calm and not panicking is task #1 for every Ukrainian. We must support each other and do everything in our power to maintain positive attitudes in society. I believe that everything will work out!", comments Yaroslav Pakholchuk , general director of 1+1 media.
During the broadcasts, important social and political issues that interest and concern Ukrainians will be raised. Among the speakers: representatives of the authorities, leaders of public opinion, volunteers. They will talk about unity and the narratives that help unite our country. The marathon will be opened by the President of Ukraine, Volodymyr Zelenskyi.
We will remind you that the President of Ukraine, Volodymyr Zelenskyi , was inaugurated on February 16, 2022, which many in the West call the day of Russia's potential invasion of Ukraine, the Day of Unity of Ukrainians. Accordingly, a number of events and initiatives will be held on this day, designed to popularize the holiday and unite millions of Ukrainians around the world.
Read also