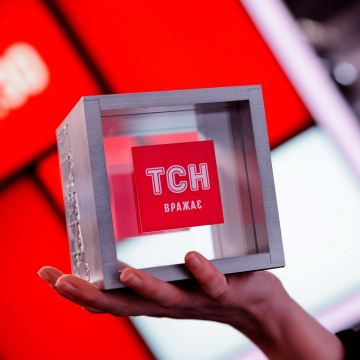 "Those who impress": TSN presented awards to the winners of the 2021 award
At the end of last week, viewers watched a story about Lyudmila Koval , who tragically lost her son, but gave permission to take his organs for a donor transplant. In this way, the woman gave a second life to three people at once. Among the 25 nominees of the award, this story impressed the users of the t sn site . ua and the 1+1 site the most, 18% of the voting participants voted for Lyudmila. The doctors of the Lviv Clinical Hospital said that Lyudmila's actions changed the attitude towards donation among thousands of families. If earlier the issue of donation was considered by every third family, now - half of the families to whom doctors turn to with this request. Such a trend can radically change the possibilities of transplantology in Ukraine.
Plot: https://www.youtube.com/watch?v=g1g38UtSnXo
Correspondent Yulia Symonenko met with the sports star, who is already 97 years old. Tennis player Leonid Stanislavsky from the Guinness Book of Records fulfilled his dream and played a match with the legend of world tennis - Rafael Nadal. The world's oldest tennis player continues to train three times a week and dreams of playing a match with his other idol, Roger Federer.
Plot: https://www.youtube.com/watch?v=jNCXOT_W-ls
1+1 viewers watched a story about Kherson schoolgirl Victoria Panchenko , who won bronze at the World Genius Olympiad in the USA for her project to clean up the Dnipro. After the whole country learned about her invention , scientists became interested in it. And at one of the capital's universities, the girl is even helped to issue a patent for an invention.
Plot: https://www.youtube.com/watch?v=CVNuUPBOy7M
Correspondent Iryna Markevich with a TSN statuette visited Ukrainian nurses of the National Cancer Institute who saved a man's life while on vacation in Egypt. After the TSN story, patients began to recognize the women, and the phone is still ringing with calls from colleagues and friends. The nurses really befriended the rescued Belarusian.
Plot: https://www.youtube.com/watch?v=pVkbQo1ieH8
And 17-year-old Oleksandr Ohanyan , who saved the life of a minibus driver in Melitopol last November on his way to a date , is thinking about choosing a lifeguard profession. We will remind, 11% of the voting participants cast their votes for the boy's act.
Plot: https://www.youtube.com/watch?v=ls3Rz8uToRw
We will remind you that "Those who impress" is an annual TSN award, which traditionally awards Ukrainians who have shown resilience, courage, and determination in the stormy events of the past year and have become the heroes of TSN stories. The mission of the project is to inspire people, strengthen their faith in themselves and the better future of our country.
Read also