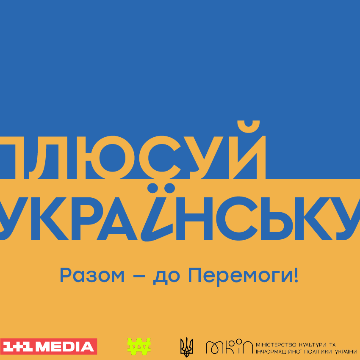 "Breakfast with 1+1" launches thematic section "Add Ukrainian"
The section is implemented with the support of the Kyivstar TV cinema and television platform
On Thursday, 1 June, the morning show "Breakfast with 1+1" on 1+1 Ukraine premiered a thematic section to help viewers improve their knowledge of the Ukrainian language. The series was developed as part of 1+1 media's Plus Ukrainian project and in partnership with Kyivstar TV, a film and television platform.
The section will be released every Thursday in the time slot from 09:00 to 10:00. The professional actress and celebrity coach Yulia Zaremba will help everyone to improve their Ukrainian. So, in the first episode, Yulia took to the streets of Kyiv to test the knowledge of residents and visitors of the capital. For each correct answer, the survey participants received a useful gift from the partner - a promotional code for free access to the Kyivstar TV platform.

The first episode: https://youtu.be/-hs0XokqAV8

In addition to a series of informative TV stories, 1+1 media group prepares a selection of Ukrainian language rules, provides the best translations of borrowed words, analyses dialects and much more in the dedicated Telegram community. The Plus Ukrainian channel is available at this link: https://t.me/ideaspeople.
As part of the project, the media group also shares motivating examples of how to switch to the Ukrainian language. In particular, interviews with the heroes of the initiative are available on the 1+1 TV channel's website: TikTok blogger Andriy Shymanovskyi, singer LELY45, theatre and film actor Taras Tsymbaliuk, Antytila band leader Taras Topolya, theatre, film and dubbing actress Natalka Denysenko, and 1+1 Breakfast with 1+1 and Voice of the Country host Yuriy Horbunov.
The main platforms of the project are Facebook and Instagram of 1+1 media, 1+1, WAW and MKIP, YouTube 1+1, the project's TikTok page and Telegram channel, the websites of TSN.ua, UNIAN, Glavred and 1+1, 1+1 Marathon, 1+1 Ukraine, TET and PLUSPLUS TV channels.
Read also