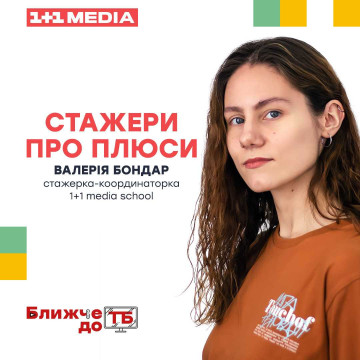 Valeriya Bondar, intern-coordinator of 1+1 media school
About drive in the profession
IN I am most driven by constant development and self -improvement in my work. It is important for me to constantly work on new tasks , and working at a media school is ideal for this. The start of each new school year is always seen as the start of a new small project, the success of which must be carefully monitored at each stage. In addition, this is a small holiday not only for students, but also for the team of the media school.
I really liked attending lectures for interns that Natalya Boroh organized for us . We have been told a lot about emotional intelligence, critical thinking and effective communication. Thanks to my internship experience, I was able to define priorities in the profession and understand what skills are still worth working on.
I am proud of the work on the "Content - Maker" course, which I coordinated from start to finish. Students always had interesting practical classes. After completing their studies, some students joined teams 1+1 media .
Currently, my first week of work in a new position — a junior coordinator of the design department — continues. The plans are to develop in a new field and apply the knowledge gained during the internship.
Read also