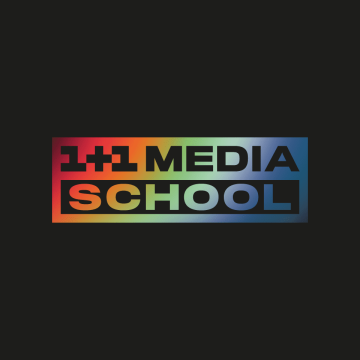 1+1 media school announces a new educational direction "Mastery of dubbing"
On May 18, 2021, 1+1 media school , an educational project of the 1+1 media group, will open its doors to students who want to learn dubbing skills and gain experience from leading Ukrainian professionals and the best specialists in this field of 1+1 media. The "Dubbing Actor" course will allow you to learn the peculiarities of different approaches to dubbing films, cartoons, as well as advertisements and promos.
70% of the course program will be occupied by practical classes and master classes that will help students master 4 different styles of voicing. The uniqueness of the proposed program is that students will be able to create their own portfolio with professional recordings in 1+1 media studios during their studies. Curator of the course is Serhii Mogilevsky, brand voice of the 1+1 TV channel, announcer and producer on creative issues. On the plus side, Serhiy works with more than 300 professionals who are engaged in dubbing and adaptation of content, dubbing almost all foreign language products purchased by 1+1 media. And this is hundreds of thousands of hours of content.
"In Ukraine, the direction of dubbing is gaining more and more popularity every year, and I am very glad that the 1+1 media team is actually standing near its origins. I am confident that we will be able to provide unique knowledge to students — both beginners and professionals. We have a lot of experience, a lot of interesting cases and author's techniques, which will definitely be useful to everyone who works or dreams of working in the field of dubbing, " commented Serhii Mogilevsky , curator of the "Actor dubbing" course.
Serhii Mogilevskyi became a teacher at 1+1 media school for the first time and brought together leading dubbing experts in his course. The interaction of speakers in one training program is a unique opportunity to acquire many years of experience and exclusive knowledge, because among them there are 6 practical trainers who are the Ukrainian voices of the most famous Hollywood actors. In particular, the brand voice of TET TV channel Andriy Tverdak voices Brad Pitt, Matthew McConaughey, and Tom Cruise; qualified broadcast production master Kateryna Sergeeva - Mila Kunis, Cameron Diaz, Sandra Bullock speak with her voice; Associate Professor of the Department of Dramatic Language of KNUTKiT named after I.K Karpenko-Kary, Honored Artist of Ukraine Oleksandr Zavalskyi once voiced all the male characters of the film "Home Alone"; actor and dubbing director Pavlo Skorokhodko - the voice of Kevin Wendel Crumb in the films "Split" and "Glass", Harry Potter, SpongeBob SquarePants; Alice Guryev , a speech culture teacher at KNUTKiT named after I.K. Karpenko-Kary, is voiced by Elizabeth Olsen, Emma Watson, Amber Herd; content adaptation group manager Milana Osadcha worked on the adaptation of such projects as "Chernobyl", "Clinic", "Young Sheldon", "Mamtsia", "SpongeBob".
"We put a lot of effort into the development of the "Dubbing Actor" course and are sure that the feedback will be appropriate. We observe high attention to this direction and are proud to be able to provide our high qualifications and transfer unique knowledge and skills to students. To do this, we have united real professionals in their field, the best dubbing actors in Ukraine, so the course program turned out to be complex and rich, " says Yuriy Bilokur , head of 1+1 media school, about the new course.
The "Actor dubbing" course starts on May 18, you can learn more about the program on the website of the media school.
Certificate:
1+1 media school is an educational project of the 1+1 media group, founded in 2013. During this time, the school became an ambassador of media education in Ukraine, providing high-quality and unique knowledge in the field of TV business to students from different parts of the world. The main goal of the project is to help those who want to acquire the necessary skills for further self-realization in media professions. Trainers of 1+1 media school are the best specialists of 1+1 media, as well as leading experts of the creative industry of Ukraine, specializing in content creation.
Read also