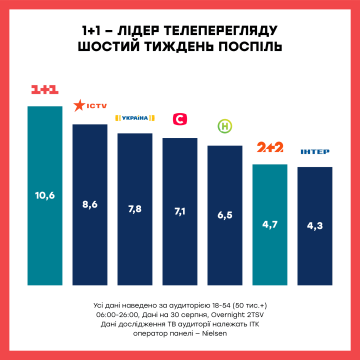 1+1 media set its own TV viewing record, and 1+1 channel holds the lead for the 6th week in a row
Such a high commitment of the audience is due to a number of premieres and high-quality programming of the channel. In particular, on August 23, 1+1 aired a new episode of the show "Evening Quarter" with a rating of 3.7% and a share of 16.5% in the audience 18-54 (50,000+). The project of the Studio "Kvartal 95" became the best program of the week on Ukrainian television.
The television premiere of the film "Pulse" by Serhiy Chebotarenko - a sports drama about the five-time medalist of the Paralympic Games Oksana Boturchuk on August 29 - received a share of 10.6% and a rating of 2.9%.
Also, according to the results of the week, the 2+2 TV channel, which is part of the 1+1 media group, took the sixth place in the TOP TV channels, collecting a total share of 4.7%.
We remind you that on August 24, the Independence Day of Ukraine, TV viewers traditionally met with the flagship channel of the 1+1 media group – 1+1. Thus, the share of TV viewing 1+1 was 13.4% in the audience 18-54 (50 thousand+) - this is almost 5 percentage points more than the nearest competitor. Thus, 1+1 became the leader of the day among all TV channels in the country and updated its own TV viewing record for 2021. In addition, 1+1 media was in the first place among all media groups of Ukraine, collecting a total of 23.2% of the share and surpassing the holding, which is on the 2nd step, by more than 4 points.
All data are given by audience 18-54 (50 thousand+)
06:00-26:00, Data for August 30, Overnight 2 TSV
TV audience research data belong to ITK; the operator of the panel is Nielsen .
Read also