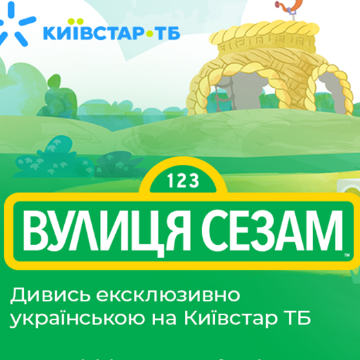 The Sesame Street animated series will be broadcast on PLUSPLUS TV channel as part of a partnership to create an All-Ukrainian mental health program initiated by First Lady Olena Zelenska
The new international partnership of 1+1 media and PLUSPLUS with Sesame Workshop is in cooperation with the initiative of First Lady Olena Zelenska to create an All-Ukrainian Mental Health Program.
Starting March 27, every day at 12:30, viewers of the PLUSPLUS TV channel, a part of 1+1 media, will be able to watch unique content - the television premiere of the educational animated series for children with world-famous characters Sesame Street, which is a continuation of the legendary bestselling animated series of the same name with more than 50 years of history by Sesame Workshop. In particular, the 140 5-minute episodes of the project were specially designed to help children and parents cope with crisis situations and stress that have arisen, in particular, as a result of Russia's full-scale invasion of Ukraine. These engaging and entertaining videos promote the development of math, science, social and emotional skills, as well as teach children healthy and safe lifestyles and barrier-free communication skills. Particular attention is paid to the unique needs and experiences of children living in a major war.

"The full-scale invasion has been going on for two years now, and every Ukrainian continues to learn how to survive in new conditions and adapt every day. At the same time, children - those who are in Ukraine and those who have been forced to leave the country - need special attention. That is why we, together with 1+1 media and PLUSPLUS TV channel, have joined forces with Sesame Workshop to develop a unique program to support children and parents living in crisis. The practical tips and tricks presented in the animated series are designed to teach barrier-free communication, important social skills, safety, etc. in a convenient and understandable way for children. For our part, we will also promote the maximum distribution of the educational videos within the framework of the All-Ukrainian Mental Health Program and through the members of the Bezbariernist community. We believe that thanks to our joint powerful platforms and Sesame Workshop's many years of experience in creating similar projects, we will be able to reach the maximum audience and help children and parents cope with current challenges in such a difficult time," commented the Bezbariernist NGO.

In addition to broadcasting on PLUSPLUS TV channel, starting March 27, the special educational season of the Sesame Street animated series will be shown exclusively on the Kyivstar TV movie and television platform at any convenient time and in any way. We emphasize that the content is available for subscribers of all telecom operators in Ukraine, and access to the video library with the project will be provided free of charge.

"Even before the full-scale invasion, Kyivstar TV was systematically searching for and creating educational content for Ukrainian viewers. In February and March 2022, we saw a huge demand from the platform users for children's educational content, as there was no possibility of meeting even the basic needs of schoolchildren. So we began to fill this segment of projects even more actively, and in December 2022, we launched the Children's Profile on Kyivstar TV. Therefore, support for the Sesame Street animated series is a continuation of our strategy to enable Ukrainians not only to watch a product but also to interact with it in every possible way, gaining new knowledge and skills, which are especially necessary in such a turbulent time," Kyivstar TV added.

The authors of Sesame Street emphasize that this animated series is based on thorough research and a curriculum by a team of world experts. It helps children learn to recognize and label their emotions through similar plots and characters in an entertaining way. Developing these social and emotional skills in children builds resilience in similar situations and helps to bridge the gaps in education caused by the ongoing external crisis. Watch the premiere on March 27 at 12:30 on PLUSPLUS TV channel and Kyivstar TV.
Read also