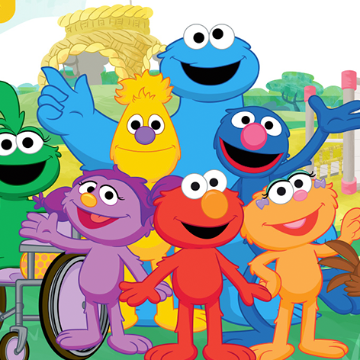 Sesame Workshop Expands Efforts to Support Ukrainian Children Affected by Ongoing Conflict through New Broadcast on PLUSPLUS
Part of the global Welcome Sesame initiative, this new partnership brings Sesame Street's characters to Ukraine through videos designed to help children and families cope with the effects of crisis and displacement.
New York, NY/Kyiv, Ukraine (March 14, 2023) – Today, Sesame Workshop announced that Elmo, Cookie Monster, and friends are coming to televisions across Ukraine through a new partnership with 1+1 media group and its broadcaster PLUSPLUS, the country's leading animation channel for children and families. The 140 animated 5-minute video segments are designed to bring playful early learning to children, with particular attention to the unique needs and experiences of those affected by crises. These engaging and entertaining videos promote math, science, and social-emotional skills as well as health and safety lessons—all tailored for children ages 3-8. In addition to being broadcast on PLUSPLUS beginning March 27, this new content will also be available for streaming on demand on the Kyivstar TV platform.
"One of the main tasks of PLUSPLUS is to implement projects of a social nature that will inspire children, teach good habits, and help in solving certain issues. In the context of Russia's full-scale war in Ukraine, when the level of stress and tension is at its maximum, it is important for us to maximize efforts and do everything possible to help children and parents find strength and live emotions correctly. We are proud of our cooperation with Sesame Workshop because it is unique for Ukraine. We believe that the content that will be broadcasted as part of the project will help millions of families cope with difficulties," said Ivanna Naida, General producer of the PLUSPLUS TV channel, Ukraine.
Exposure to prolonged stress during these critical early years can inhibit brain development and have lasting effects on learning, health, and behavior. However, research shows that access to high-quality early childhood development (ECD) can mitigate the effects and help children build a brighter future. Grounded in rigorous research with a curriculum developed by a team of global experts, this series helps children learn to identify and label their emotions through relatable storylines and characters. Developing these social-emotional skills builds resilience in the face of adversity and helps to bridge the gaps in education caused by the ongoing crisis.
"As we mark one year since this crisis began in Ukraine, early learning and nurturing care for young children and caregivers continue to be an essential need," said Sherrie Westin, President of Sesame Workshop. "We are proud to partner with PLUSPLUS to bring our beloved Muppets of Sesame Street to Ukrainian children and their families. Our new content was designed to meet this moment and build on Sesame's long history of harnessing the power of media and Muppets to deliver playful learning, joy, and hope to young children."
When the war in Ukraine began last February, Sesame Workshop immediately took action to help the millions of children and families forced to flee their homes, tapping into a wide network of partners and educational advisors to generate a tailored response to the specific needs of young children and families affected by the crisis.
Today, Welcome Sesame resources in Ukrainian reach children, caregivers, and teachers in Ukraine and the surrounding region. These materials and additional Ukrainian-language content on Sesame's YouTube channel are here to help families cope with the trauma of forced displacement, communicate and process what they are experiencing, and develop a sense of belonging in new places. Sesame Workshop has also released a new series of live-action short films about positive self-identity created with Ukrainian educational advisors and a local Ukrainian production team. Featuring a diverse group of children and families, these videos celebrate contemporary Ukrainian identity and heritage through dance, music, arts and crafts, language, and food.
Sesame's research-based educational media is also being integrated into social service programs provided by partners, including the Ukraine Ministry of Education and Science's e-learning platform NUMO, Save the Children, the International Federation of the Red Cross, and the UNICEF Learning Passport.
Generous funding for Sesame Workshop's Welcome Sesame response in Ukraine has been provided by provided by the USAID-funded Ukraine Confidence Building Initiative III. These videos, called Watch, Play, Learn, represent a first-of-its kind library of educational content, funded by the LEGO Foundation. Developed with the input of global experts, they are tailored to meet the needs of children in crisis.
Read also