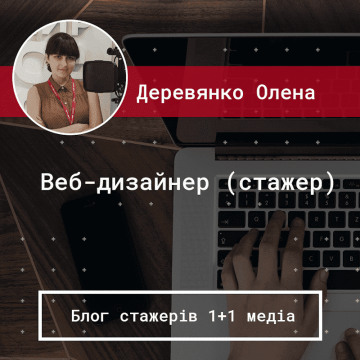 Olena Derevyanko - Web designer (trainee)
I remember the day when I first saw the vacancy for an intern web designer at 1+1 Media. "How cool it must be to work in such a place," I thought and turned the pages further. I lacked the courage and confidence to respond. But periodically, during two months, this advertisement continued to catch my eye. "Probably, this is fate, and they are waiting for me," I thought and shot a video summary. And here's a call, an invitation to Kyiv for an interview. I was completely calm until I crossed the threshold of the main office and ran into Yury Gorbunov. For me, since childhood, people from TV have been equated with deities who create magic and magic. Then it dawned on me where I was aiming - my hands shook, and all smart thoughts and knowledge disappeared from my head. After the interview, I returned home to Odessa, full of confidence that I would definitely not be accepted to this wonderful place. A week passed, the second was coming to an end, I lost all hope of an invitation, and the call from HR seemed like a real miracle to me.
At the beginning of July, I started working in the Digital department. At first it was very scary, but the employees accepted the newcomer well, patiently explained the task and just as patiently answered the questions that arose, sometimes very stupid and obscure.
We, interns, got into the very epicenter of preparations for the launch of the new 2+2 site, and we were given a small but important part of the work. This is where the working days began. It was difficult, difficult, but terribly interesting. Our task was to modify the already existing tickers for the new site format. Now I don't watch TV, and I don't know what kind of programs are on our channels and what are the names of the presenters ("Bad career path", as they would say in our department :)). But during this time, I learned all the series, shows and programs, and memorized all the presenters. It turned out to be easy when you periodically see them in the dining room or on the first floor :) In addition to tickers for the site, I made images that were used for social networks, Viber, or advertising. Indeed, the work that everyone sees. And every time there is a feeling of unreality when you see your work on the site - "Did I do this? And thousands of people are seeing my work right now? Is it true?"
Every day I am happy that I was able to push myself out of my comfort zone into the wonderful world of 1+1 Media. The internship gave me a lot: new experience, new acquaintances, self-confidence and "Nobody, you work for 1+1?!" - from friends :)
Read also