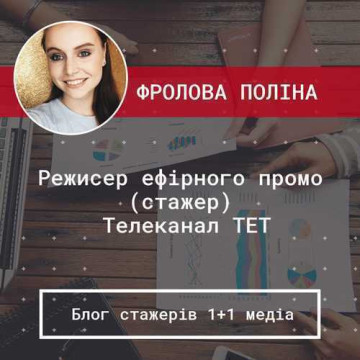 Frolova Polina - TV promo director (trainee) TV channel TET - about her internship
I would like to start with the fact that I am an ecologist by education, and a video blogger by heart. And this, in my opinion, is quite important in this story.
The first two months from submitting a video resume and an interview to the words on the phone: "Good afternoon, Polina, you have been accepted to the intern team" passed for me like a dream, because I could not believe at all that my dreams and hobbies could turn into some serious real things I only remember the words of my future boss: "I was looking at your blog. You are a good editor. And do you feel better behind the scenes than in the frame? Then you'll definitely come to us."
And then I got into some unreal world. It seemed to me and still seems to me that this is not true. My relatives always told me: "It's not always important what job you work, the main thing is that you have a great team." It's true, but I was lucky twice and got a great job and the best team. I will explain. I don't feel like a stranger here, a little intern, I feel like a colleague here. And if I don't understand or can't do something (and I didn't know a lot of things, because I'm an ecologist), they help me, teach me, and sometimes even treat me with cakes:) Isn't that perfect?!
As for work, imagine that when you come to the office, you can sit down in a soft chair with a cup of tea and watch movies? Can you imagine? But this is my job! Of course, this is not all my duties, but one of its many pleasant parts. Like everyone else, I have difficulties, a lack of ideas, creative stupors, but when I look around and realize that I am working on television and this is no longer a dream of two years ago, but a reality, then a second wind somehow appears by itself.
Also, an internship at 1+1 media opens up a huge world of opportunities. And this is not a corporate slogan, but the real truth. For example, I already starred in the film "Children of Victory", which was shown on 1+1, and also voiced some episodic roles for announcements. And I am sure that this is not the limit. So dream on! Even if you study in a completely different specialty, you have a real chance to realize your dreams and turn your hobby into your favorite job!
Read also