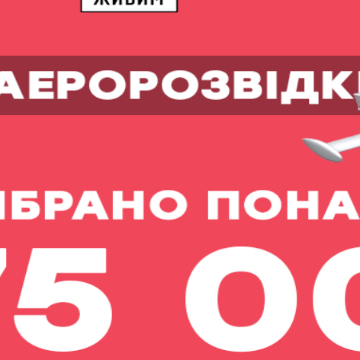 The 1+1 media group continues to collect funds for the "Aerial Intelligence League" with the support of "Return Alive"
Recently, on March 4 and 5, broadcasts of football matches of the Ukrainian Premier League were returned to the broadcasts of 1+1 media resources, during which the media group together with the "Return Alive" Foundation launched a fundraiser for the "League of Aeronautics".
So, before, during and after the broadcasts of two matches - "Dynamo-Ingulets" and "Metalist-Rukh" - it was already possible to collect more than 875,000 hryvnias for the purchase of BpLA mobile points. These are special all-terrain vehicles equipped with an autonomous power system, workplaces for operators, tools for repair and separate places for the location of large drones. In total, another 35 broadcasts are planned, within which the collection will take place until June inclusive.
In particular, on Saturday, March 11, the match "Zorya" - "Lviv" will take place, and on Sunday - the central match of the tour "Dnipro-1" - "Dynamo" and the match between "Rukh" and "Kolos". The football matches will be broadcast by TV channels 2+2 and UNIAN, which are part of 1+1 media, as well as sports Digital projects of the media group - FootballHub and "PROFUTBOL Digital".
Traditionally, interested fans can make their charitable contribution by going to the special Bank of the "Air Force Base Control Points" Fund through the QR code that will be posted during the broadcasts. In addition, everyone who wants to join the gathering will be able to join outside the broadcasts. For this, you should choose any convenient method: a special project account posted on the Fund's website at this link ; Bank of the Fund, which is available here .
In general, 1+1 media together with the "Return Alive" Army Competent Assistance Fund plan to collect funds for three mobile points, the cost of one of which is UAH 3,360,000.
More detailed information about the project is available on the Foundation's website and social networks , as well as on the official pages of the 1+1 media group .
We will remind you that on Saturday, March 4, the Dynamo-Ingulets match ended with a score of 0:2 in favor of the Ingulets football club. You can watch the pre-match studio, live coverage of correspondents from the stadium before the start of the game and during the break on the FootballHub YouTube channel . The post-match broadcast from the scene with comments from players and coaches is available on the "PROFUTBOL Digital" channel .
On Sunday, March 5, "Rukh" beat "Metalist". The score of the match is 1:2. More detailed information about the course of the match is available on FootballHub at this link .
Read also