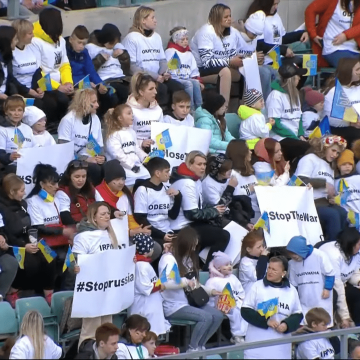 Match for peace: Ukrainian artists called for the application of the extraction procedure for "Azov"
In addition, today's match coincided with an important date - the 95th anniversary of the Dynamo Kyiv football club . The club with a glorious history, traditions and great achievements was founded exactly 95 years ago, on May 13, 1927. "Dynamo" is the most titled club of Ukraine. Kyivans won the Cup Winners' Cup twice in their history and the European Super Cup once. "Dynamo" became the champion 29 times. Among the famous Dynamo players are three winners of the Golden Ball - Oleg Blokhin, Igor Belanov and Andriy Shevchenko. The legendary coach of Dynamo Valery Lobanovskyi, who died exactly 20 years ago, is considered one of the best football specialists of his time. He was the person who set the entire vector for the development of football science.
We remind you that all the money received from the sale of tickets, as well as donations that will be received during the television broadcast, will be directed to solving the biggest humanitarian problems that arose due to the full-scale war of the Russian Federation in Ukraine . In particular, the funds will go directly to the accounts of the Ministry of Social Policy of Ukraine and will be used to meet the food needs and arrangement of accommodation for refugees and citizens who left their place of residence due to hostilities, providing them with clothes and shoes, providing medicines and medical preparations; providing the population with essential goods, providing one-time cash assistance, meeting other priority needs of human life, etc.
The initiators of the Match for peace #StopWarInUkraine project are Dynamo football club, which will celebrate its 95th anniversary on May 13, and one of the largest media holdings in Eastern Europe, 1+1 media. The project is implemented with the assistance of the Ministry of Foreign Affairs of Ukraine, the Ministry of Culture and Information Policy of Ukraine and the Ministry of Social Policy of Ukraine. The co-organizer of the FC Dynamo charity tour is Maksym Radutskyi.
All financial costs within the scope of the project are covered by the Dynamo Kyiv football club.
Read also