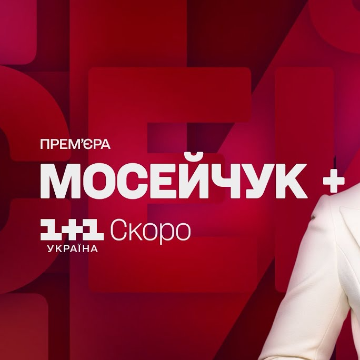 1+1 Ukraine will premiere a new project "Moseychuk+"
Soon, 1+1 Ukraine TV channel will premiere Moseychuk+, an author's project by host Natalia Moseychuk
The viewers will have frank conversations with Ukrainians - people who influence the fate of our country, who move the country forward and determine its future through their actions. These are profound stories about those who do their job honestly every day, who know the word responsibility, who have become the country's foundation and who hold the rear and the front line firmly. In a conversation with the host, the heroes will tell how they are going through the war and the country's deep transformation, what they are holding on to, what difficult decisions they have to make and, most importantly, how they see the future of Ukraine.
The host, together with the programme's characters, will look for answers to the questions that concern all Ukrainians. "Moseychuk+ is a project about new heroes, a new world and new us.
"For me, the war began in March 2014 with a live broadcast in which a captain of the Armed Forces of Ukraine demanded that the Minister of Defence give the order to fire and defend Crimea. It hasn't stopped for a single moment in these 9 years. A year ago in March, I realised that I was missing opinions, conversations, discussions. So I started the YouTube channel Moseychuk. I have done 184 interviews. My interlocutors are always those who have expertise, who have information, who have a position, who can convey their opinion and support people in the war. - Natalia says. - "Today I am moving on. Together with the team, we started working on a television project, in the centre of which we are all those who are ready to roll up their sleeves and rebuild, who are able to hear the other, who dare to take on new projects, who live in the future, who are committed to the interests of the state and their people, who risked and sacrificed their health for others, who have the vision and will to create, who touch hearts and souls. I want to show how many such incredible people there are, and I want them to inspire the rest of us with their values and leadership. I want there to be fewer misunderstandings and confusion, and more confidence in the new path. It is important that like-minded people unite. It is important that we find bright people. "Moseychuk+ is my new work, and I believe it will find its people."
Video: https://www.youtube.com/watch?v=o8FGAEP14KY
Don't miss the premiere of the new Moseychuk+ project on 1+1 Ukraine TV channel.
To ensure that 1+1 Ukraine is included in the list of channels on your TV/receiver (to set up reception of 1+1 Ukraine via T2), you need to rescan the channels. Here are the instructions on how to do it.
Read also