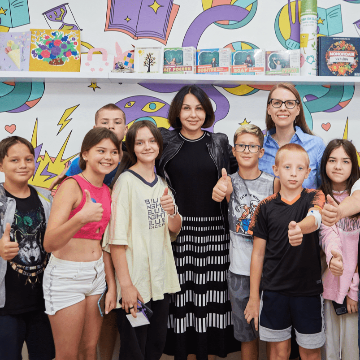 Natalia Moseychuk shows how the opening of the Superheroes' School in Boyarka went
A new educational centre, the Superheroes School, has opened in Boyarka.
The educational centre of the state institution Superheroes School has opened in Boyarka, Kyiv region. The good news was announced on Instagram by Natalia Moseychuk, curator and chairman of the project's board of trustees, 1+1 Ukraine presenter, on her Instagram page.
"Do you know when you realise you are doing a good thing? When a six-year-old kid is waiting for the Superheroes School at half past ten, half an hour before the opening. Today, new classes were opened in Boyarka. Now kids are not afraid to be sick. They have cool, cheerful, understanding teachers. They will both teach and inspire," Natalia Moseychuk commented on the opening.
"The Superheroes' School is a network of educational centres in hospitals where superteachers are always ready to share their knowledge with children. The opening event of the new educational centre in Boyarka was attended by Natalia Moseychuk, 1+1 Ukraine TV presenter, interviewer, curator, chairman of the board of trustees of the Right to Education and Superheroes School project, Oksen Lisovyi, Minister of Education and Science, and Yevhenia Smirnova, Deputy Minister of Education and Science and founder of the Superheroes School. Currently, there are 11 educational centres of the Superheroes' School in Ukraine, which ensure the right to education for children undergoing inpatient treatment in different parts of the country.
Read also