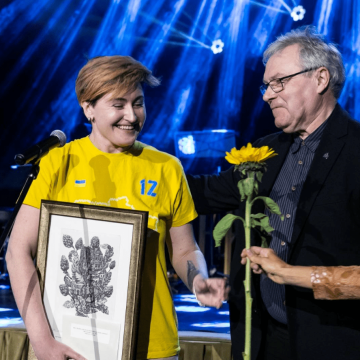 Natalya Nagorna, Special Kor TSN in 1+1, received an award in Lithuania
On April 21, in Vilnius, TSN war correspondent on 1+1 Natalya Nagorna received a special award from the chairman of the Lithuanian Radio and Television Commission (LRTK) within the competition for the best television and radio program "Pragiedruliai". She was awarded for the story "Mariupol - what it was and what has become". The report was broadcast on 1+1.
Video: h ttps://www.youtube.com/watch?v=-fbV6KDFA1 Y
The exclusive material showed the city of the pre-war period and the consequences of the destruction. The journalist also told the story of TV journalist Vyacheslav Tverdokhlib, who took a flash drive with a video from Mariupol, where active hostilities are taking place, in a candy store. In this way, he managed to save the footage of the destroyed city, which are evidence of the crimes of the Russian occupiers.
The award ceremony was held in Vilnius, Lithuania. Natalya came out to receive the award in a t-shirt of the Ukrainian national team, and the organizers presented her with a sunflower flower, a symbol of support for Ukraine.
Natalya Nagorna thanked the world community for supporting Ukraine on her Facebook page.
" I know that we will endure, because we have no other choice. It is difficult to be a wall in front of the civilized world and Russian savages. We call them orcs, but we joke that the orcs might resent us for that. For us, this is a struggle between good and evil, between civilization and darkness, and we are pleased to be together with the civilized world, and not with totalitarian Russia, which only tightens its grip on its own citizens , " the correspondent noted.
The full text of the speech of TSN war correspondent on 1+1 Natalya Nagornaya can be read here .
Natalya Nagorna became the first woman in the editorial office of TSN, who in 2014 went to talk about the war in Donbas. Has the skills of first aid, providing assistance in fire conditions. During the events on the Maidan, she was part of the Red Cross rapid response group. From the first day of Russia's attack on Ukraine, Nataliya has been covering the situation in Kyiv almost 24 hours a day, and now she is shooting reports all over Ukraine.
Read also