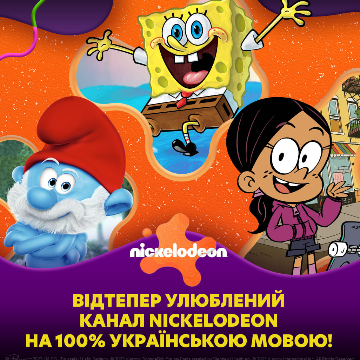 Nickelodeon TV channel completes localisation of content in Ukraine and is available 100% in Ukrainian
Nickelodeon, one of the world's most popular children's entertainment brands, which is part of 1+1 media's distribution portfolio in Ukraine, has completed the transition to the Ukrainian language and now has a 100% Ukrainian-language track.
The channel is available on a number of platforms, including OTT, Viasat satellite packages and cable networks.
The channel offers the national audience a localised version of a globally renowned brand with over 40 years of history. The content is aimed at preschoolers, children from 6 years old and teenagers, and the variety of popular shows and programmes is ideal for family viewing.
Ukrainian children and their parents have access to a huge number of top-notch shows and programmes in their native language: "SpongeBob SquarePants, Puppy Patrol, Dangerous Henry, Dangerous Squad, Nate the Almighty, Casagrande, as well as the spin-offs of SpongeBob SquarePants - Camp Coral: SpongeBob's Childhood" and "The Patrick Starr Show", which have recently been released, and much more.
In addition, as previously announced, by the end of this year, viewers can expect an impressive line-up of up to 150 premiere episodes of new series in Ukrainian, including Transformers: New Spark, The Expendables, Middlemarch, Monster High, A Very Loud House and Mysteries of Craggy Island.
Read also