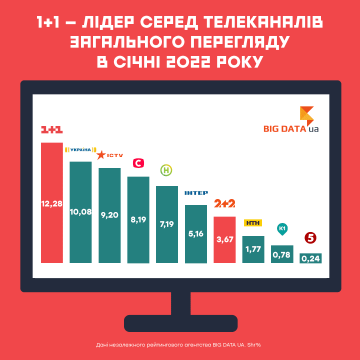 TV channels of the 1+1 media group maintain the leadership according to the results of January: BIG DATA UA review
As at the end of 2021, the group of serial TV channels is headed by Bigudi , who is part of the 1+1 media media group . In January 2022, the TV channel received a share of 0.57% and generated 325.7 thousand contacts with IPTV / OTT households. The TV channel Paramount Comedy came in second place with a share of 0.36%. The third place is occupied by the Epic Drama channel with a viewing share of 0.33% . In total, the group of series channels gained 2.38 million contacts with IPTV/OTT households throughout Ukraine.
A more detailed review and even more data are available at this link .
Read also