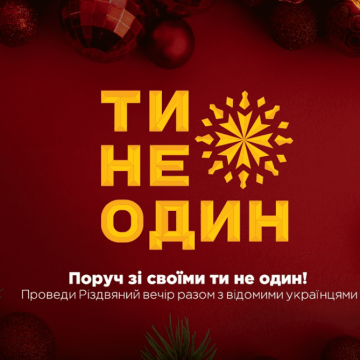 "You are not alone" - the best music program on December 25
The content of the updated TV channel will consist of favorite programs and projects that have become a point of support for Ukrainians. In particular, the morning show, which is the absolute leader in its segment and whose production did not stop during the full-scale invasion - "Breakfast with 1+1. The viewers will also be waiting for: the most successful analytical program of Ukrainian television, the return of which Ukrainians have been waiting with special trepidation, TSN. A week with Allah Mazur; A series of frank interviews with influential people of the country in "VIP with Nataliya Moseichuk", Flagship project about the lives of famous people and heroes of our time "ZhVL"; Movie hits from major studios, films and series of both Ukrainian and international, in particular, Turkish production, which won the favor of millions of viewers. In addition, the program grid of the TV channel will include entertaining original programs, talk shows, topical sharp humor from Studio "Kvartal 95" and unique special projects, which will be announced later.
In order for 1+1 Ukraine to appear in the list of TV channels/receiver of the T2 network, it is necessary to start the procedure of rescanning TV channels. Detailed instructions for setting up TV channel reception in T2 can be found below link _
Indicators are calculated on the basis of previous data. The data source is Kyivstar TV.
Read also