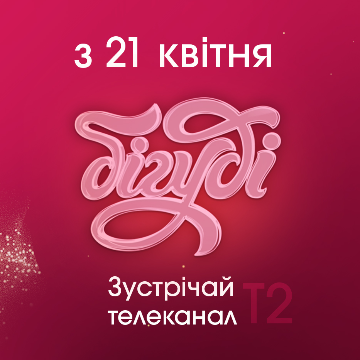 Starting from 21 April, the Bigudi TV channel has been available on T2 digital airwaves
On Friday, 21 April, Bigudi TV channel, a part of 1+1 media group, appeared on T2 network
Thus, the channel's coverage will increase by 50%, and viewers will be able to watch their favourite Ukrainian, Indian and Turkish TV series, as well as the media group's own programmes in digital.
In order for the channel to appear in the TV/receiver list (for setting up the reception of the Bigudi), you need to rescan the TV channels.
Detailed setup instructions are available on the official website of 1+1 media at this link. The media group notes that the recommendations are universal in nature and for a particular model of receiver/TV, some menu items or settings may differ from those given in the instructions.
In addition, if the settings are made correctly, in addition to the Curler, another TV channel of the 1+1 media group, 1+1 Ukraine, should appear in the channel list of the receiver/TV (if it was not available before).
It is worth noting that the Bigudi TV channel is also available in all other types of reception - on OTT platforms (Kyivstar TV, MEGOGO, SWEET TV and others), on the network of the satellite broadcasting operator VIASAT, on cable networks and, in fact, on the digital T2 air. In addition, Bigudi is traditionally among the TOP 20 most popular TV channels on Kyivstar TV's cinema and television platform, which provides relevant data for TV ratings.
Follow Bigudi TV channel on social media: Instagram account is available here, Facebook community - here.

We are pleased to announce that the viewers of Bigudi TV channel will be able to watch 1+1 media's own production: cult TV series Velyki Vuyki, Vidfrozhennyi and others, reality TV series Blind Marriage and talk shows such as Ukraine Speaks, Family Melodramas, as well as Turkish TV series Bride from Istanbul, Wind of Love and many other content.
Read also