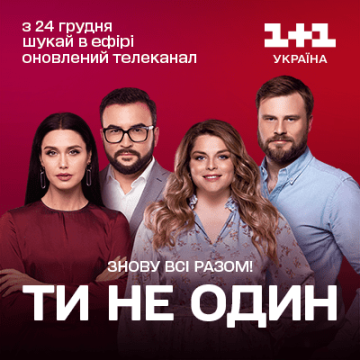 On December 24, the 1+1 Ukraine TV channel will be available to all Ukrainians
Starting from December 24, the 1+1 Ukraine TV channel will be available to all Ukrainians. The TV channel will have the widest possible coverage throughout the country, including the temporarily occupied territories. You can watch 1+1 Ukraine on all OTT platforms (Kyivstar TV, MEGOGO, SWEET TV and others), on the network of the satellite broadcasting operator VIASAT, on cable networks and on the T2 digital broadcast.
The content of the updated TV channel will consist of favorite programs and projects that have become a point of support for Ukrainians. In particular, the morning show, which is the absolute leader in its segment and whose production did not stop during the full-scale invasion - "Breakfast with 1+1" - will be broadcast on the air . Also waiting for viewers: the most successful analytical program of Ukrainian television, the return of which Ukrainians have been waiting with special trepidation, TSN. A week with Allah Mazur ; A series of frank interviews with influential people of the country in "VIP with Nataliya Moseichuk" , Flagship project about the lives of famous people and modern heroes "ZhVL" ; Movie hits from leading Hollywood studios, films and TV series of both Ukrainian and international, in particular, Turkish production, which won the favor of millions of viewers. In addition, the program grid of the TV channel will include entertaining original programs, talk shows, topical sharp humor from Studio "Kvartal 95" and unique special projects, which will be announced later.
Important holiday premieres will be the first on the air of "1+1 Ukraine" - the musical Christmas evening " You are not alone" will be shown on December 25 at 9:00 p.m. , and the Christmas episode "Evening Quarter" will be shown on December 24 at 8:00 p.m.
The presenters of the 1+1 Ukraine TV channel are the favorites of millions, opinion leaders who are united by a powerful patriotic position and gather a large television audience - Alla Mazur, Nataliya Moseichuk, Ruslan Senichkin, Lyudmila Barbir, Yehor Gordeev, Nelya Shovkoplyas, Yuriy Gorbunov, Timur Miroshnychenko, Vira Kekelia , Valentyna Hamaiko, Oleksandr Popov and a large team of "pros" who do everything possible to ensure that the viewer has access to relevant and important content, and the slogan "You are not alone" is associated with every Ukrainian.
"TV channel 1+1 - was always there and supported Ukrainians in the most important historical moments of our country, we lived everything together with you. Therefore, we are sure that the projects that will be broadcast on 1+1 Ukraine, as before, will find a great response from the audience. After all, now, in the period of a full-scale invasion, it is especially important to provide viewers not only with powerful informational broadcasting, but also to provide access to relevant artistic and entertainment content that will help to find inspiration and strength for the fight", - commented Maksym Kryvytskyi, head of Television Business 1 + 1 media and general producer of 1+1.
1+1 media emphasizes that in order for 1+1 Ukraine to appear in the list of TV channels/receiver of the T2 digital broadcast network, it is necessary to start scanning TV channels on the TV or TV receiver. Detailed instructions on setting up TV channel reception in T2 can be found at the link .
Read also